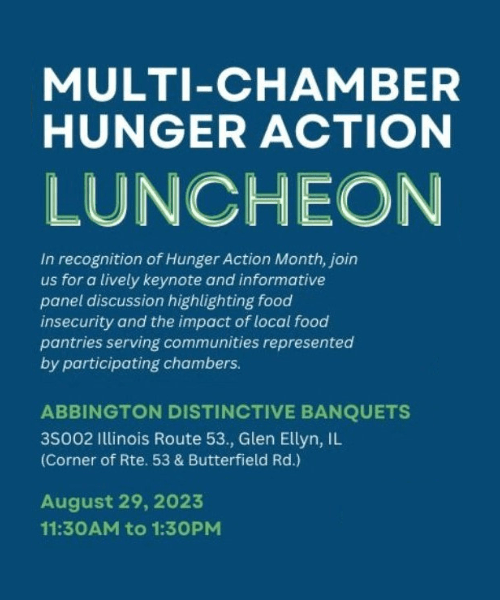 DuPage Foundation is proud to join presenting sponsor Itasca Bank & Trust Co., currently celebrating its 75th Anniversary, Duly Health and Care, and Edward-Elmhurst Health, together with 13 area chambers of commerce in hosting a Multi-Chamber Hunger Action Luncheon at Abbington Distinctive Banquets in Glen Ellyn on Tuesday, August 29, from 11:30 a.m. to 1:30 p.m. Heading into Hunger Action Month in September, the luncheon will raise awareness about the growing issue of food insecurity impacting DuPage County.
Steve Dolinsky, an American television, radio, print, and podcast food and travel reporter, and "The Food Guy" on NBC-TV Channel 5 in Chicago, will deliver the Luncheon's keynote address.
A panel discussion moderated by Nicki Anderson, advancement committee chair for Loaves & Fishes Community Services, and featuring David Dungan, MD, an internal medicine and pediatric physician with Duly Health & Care; Elizabeth "Beth" Engler, community outreach coordinator for Naperville School District 203; and Barb Szczepaniak, vice president for programs at DuPage Foundation; will focus on the impact of hunger and food scarcity within our community and how local residents and institutions are working together to address these issues.
"The increase we have witnessed in the number of our neighbors visiting food pantries throughout DuPage County from 2022 to 2023 is staggering," said Mike Sitrick, JD, CFRE, DuPage Foundation president & CEO. "We're honored to help shine a light on this important issue with Itasca Bank and Trust Co. and our other co-sponsors and local chambers. Addressing food insecurity is one of our four focus areas under the DuPage Community Transformation Partnership, a five-year, $10 million grantmaking program we are administering with the DuPage County Board, so this discussion is extremely timely."
The 13 participating chambers of commerce include Bloomingdale Chamber of Commerce, Carol Stream Chamber of Commerce, Chamber 630 (Downers Grove and Woodridge), Elmhurst Chamber of Commerce and Industry (ECCI), GOA Regional Business Association, Greater Oak Brook Chamber of Commerce, Lisle Area Chamber of Commerce, Naperville Area Chamber of Commerce, Palatine Chamber of Commerce, Roselle Chamber of Commerce, Western DuPage Chamber of Commerce, Westmont Chamber of Commerce, and Wheaton Chamber of Commerce.
Chambers will donate $5 from each $40 ticket to their local food pantries. Chairing the organizing committee is Scott LaMorte, vice president of business development at Itasca Bank & Trust Co., and a member of the ECCI Board of Directors.
To register or learn more, visit: itascabank.com/hunger-action-luncheon or purchase tickets through one of the 13 participating chambers.