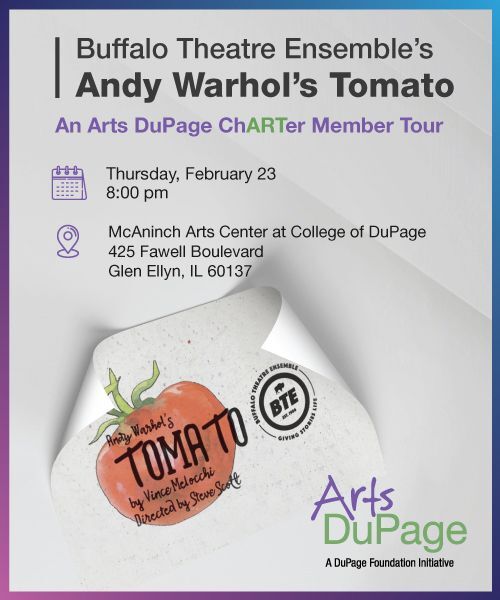 An invitation to Arts DuPage ChARTer Members!
The Andy Warhol Portfolios: A Life in Pops is coming to The MAC in June. Get ready for the blockbuster exhibition by attending Buffalo Theatre Ensemble's production of Andy Warhol's Tomato, a fictional tale on the beginnings of an American icon.
It's 1946 in Pittsburgh. 18-year-old Andy Warhol finds himself in the basement of a working-class bar. Over the course of a summer, Andy gives and gets inspiration, guidance and friendship from a surprising source in this fictional take on an apocryphal story of an American legend.
Click here for more information:
https://www.artsdupage.org/event/bte-andy-warhols-tomato/
Tickets are available for the special Arts DuPage Membership discount rate of $23 ($21 plus a $2 ticketing fee). That's a 50% savings over the standard cost of a ticket!
*Tickets are non-refundable*