Ways to Give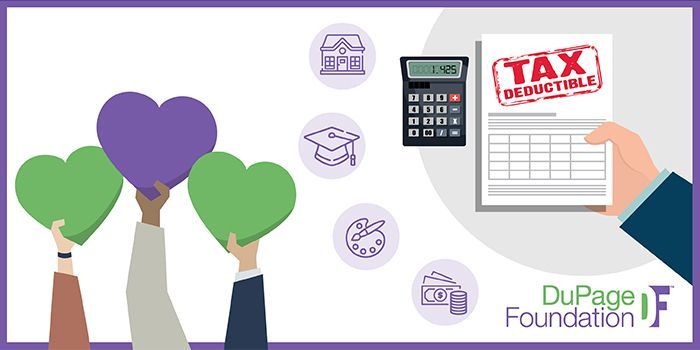 One of the principal advantages for people who give through DuPage Foundation is the flexibility we provide. We offer donors a variety of tax-effective ways to make charitable gifts that achieve their goals. Donors may establish or add to a fund with any of the following assets: 
Cash
Cash is the easiest way to contribute to the Foundation and will qualify for the maximum allowable tax deduction.
Marketable or Closely Held Securities
Appreciated stocks and bonds may be given to the Foundation, allowing donors to deduct their current market value as a charitable contribution and avoid capital gains tax on the appreciation.
Real Estate
Real estate may be given to the Foundation at its current market value allowing the donor to receive a full charitable deduction and avoid capital gains tax on the appreciation.
Life Insurance
Among the many ways to donate life insurance, the simplest way is to designate the DuPage Foundation as a beneficiary of the policy. You can also transfer ownership of a paid-up policy, donate insurance policy dividends, or name the DuPage Foundation as a policy's designated owner and beneficiary, making annual gifts to us in the amount of the annual premium. In this arrangement, the premium would be paid by the DuPage Foundation. Please contact us directly for more details.
Retirement Plans
Donors can use an IRA or other retirement assets such as a 401(k), Keogh, or 403(b) to establish a new fund or contribute to an existing fund.
In addition, donors 70½ and older who do not need all or a portion of their IRA income may make annual tax-free charitable gifts of up to $100,000 each ($200,000 per couple) directly from their qualified IRAs to the Foundation and their other favorite charities without recognizing the assets transferred as income. These Qualified Charitable Distributions (QCDs) will count toward their annual required minimum distribution (RMD) which can help them reduce their income and pay less taxes. Certain restrictions apply. To learn more, please e-mail or call us at 630.665.5556.
Business Interests, Including Partnerships and Interests in C Corporations, S Corporations and LLCs 
The contribution of privately-held business interests can also make for highly tax-efficient charitable gifts and may be utilized to establish or add to a Foundation Fund. Upon making such a gift, the donor may receive a charitable income deduction for the full fair market value of the donated assets and avoid capital gains tax that would be incurred if the assets had been sold. Gifting such assets has several requirements that must be carefully followed including IRS rules regarding appraisal requirements to substantiate any potential tax deduction. When seeking to make such gifts the DuPage Foundation recommends consulting with your team of professional advisors.  
Transfer from an Existing Private Foundation
Administering a private foundation under IRS rules can be burdensome and expensive. Transferring the assets into a donor-advised fund at the DuPage Foundation provides a simple and cost-effective alternative that will free you to focus on your charitable passions and ensure that your foundation's identity and charitable impact continue on well into the future. Click here to learn more.
Want to give another type of asset not listed here? E-mail or call us at 630.665.5556 to learn if we can help.
The content provided above and throughout this website is for informational purposes only and should not be construed as or relied upon as legal or tax advice. DuPage Foundation does not provide legal or tax advice and recommends that you consult with your tax attorney and other members of your professional advisor team prior to making a significant charitable gift.