DuPage Foundation's Annual Benefit Gala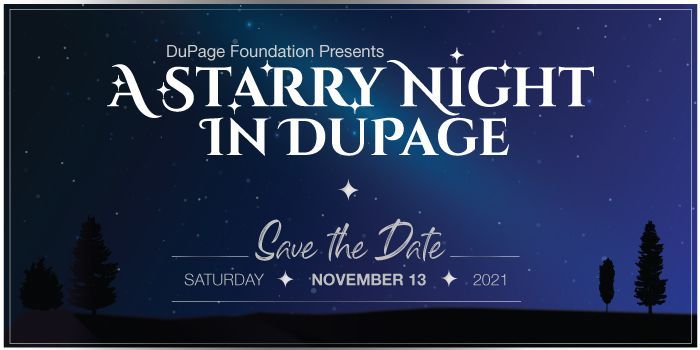 Save the Date for
A Starry Night in DuPage
Saturday, November 13, 2021
Mark your calendar and plan to join your DuPage Foundation friends this fall for an exceptional celebration of community philanthropy as we look to reconnect and enjoy an evening to remember. More details coming soon.
While plans are being made for the 2021 annual benefit, enjoy the details from our 2020 virtual event:
---
The Spotlight Ball
Saturday, November 14, 2020
The Spotlight Ball shined a spotlight on YOU and YOUR impact in DuPage County and beyond. With plenty of delightful surprises for all who attended, the Spotlight Ball was a fun, nontraditional celebration in support of the vital work needed to raise the quality of life for all throughout the DuPage community.
Sponsors enjoyed catering and/or DuPage Delights boxes of goodies to set the tone for an unforgettable evening at a location of their choice. A brief virtual program streamed from 7:30-8:15 p.m. which rolled out the red carpet honoring some of the stars of effective philanthropy. The vision for hundreds of local community members spending time together--virtually--for a memorable night of impact became a reality in this first-ever virtual gala. To watch a recording of the brief program, click below.
Our thanks to emcee Greg Dellinger and Foundation President and CEO Dave McGowan for co-hosting duties, and to our featured guests: 
Kara Murphy, president of DuPage Health Coalition
Dr. Supriya Jasuja, an infectious disease specialist and DuPage Foundation donor and volunteer member of the Grant Committee
Thanks also go to those in the featured videos:
Others who assisted include:
You can still support DuPage Foundation on our website any time! Every dollar supports DuPage Foundation in Doing a World of Good In Our Own Backyard.™
Thank you to our "Red Carpet" sponsor:
Thank you to our other sponsors for their support: