Barbara S. Szczepaniak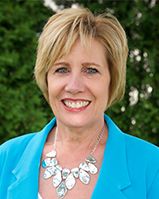 Barbara S. Szczepaniak | Vice President for Programs
Phone: 630.598.5280
Email: barb@dupagefoundation.org
LinkedIn
As vice president for programs, Barb is responsible for providing oversight for all of the Foundation grant programs. She works with the Foundation's Board of Trustees, Grant Committee, and staff to develop and implement initiatives aimed at raising the quality of life for DuPage residents. She was instrumental in launching the Foundation's Bright & Early DuPage and Arts DuPage and DuPage Community Transformation Partnership initiatives. She is also responsible for building and maintaining effective partnerships with the community's not-for-profits and works closely with Foundation donor-advisors in an effort to connect them to organizations and programs that align with their philanthropic interests. 
Prior to joining the Foundation, Barb served as executive director of the Elmhurst School District 205 Foundation for Educational Excellence for 11 years. There she managed the Foundation's development and grantmaking activities to increase its visibility throughout Elmhurst, foster strategic partnerships, and ensure its overall success.
Barb serves on several county-wide boards including the DuPage Federation on Human Services Reform, DuPage Homeless Continuum of Care as a member of the Leadership, and Rank and Review committees, DuPage Workforce Investment Board, and Impact DuPage as a member of the Steering Committee.
Barb is the recipient of the 2012 West Suburban Philanthropic Network Grantmaker of the Year Award; Suburban Life Magazine's 2016 Woman of Distinction Award; and is a 2018 Erikson Institute Barbara Bowman Leadership Fellow. 
She holds a bachelor of science degree in speech communications and a minor in public relations from Illinois State University. Barb is a lifelong resident of DuPage County, and currently lives in Elmhurst with her husband, George.