Michael R. Sitrick, JD, CFRE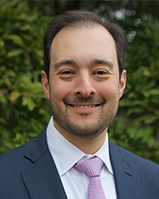 Michael R. Sitrick, JD, CFRE | Vice President for Advancement
Phone: 630.598.5285
Email: mike@dupagefoundation.org
LinkedIn
As vice president for advancement, Michael works closely with people and organizations to help them accomplish their charitable goals. He concentrates on facilitating outright and deferred gifts of appreciated property and demonstrating the impact of philanthropy and endowed funds to the community.
Michael graduated magna cum laude from Millikin University in Decatur, IL, with a Bachelor of Science degree in Business Management and earned his Juris Doctor from Loyola University Chicago School of Law. After completing his studies, he worked as an attorney at two Chicago area law firms where he concentrated in civil litigation.
Prior to rejoining the staff in 2013, Michael had worked for the Foundation from 2003 to 2010 in a variety of positions within its advancement department.
Michael is a member of the DuPage County Bar Association (DCBA) where he serves on its Judiciary Committee and Public Interest and Education (PIE) Commission. He is also president of Suburban Chicago Planned Giving Council, a member of the DuPage County Estate Planning Council, and a past board member of the West Suburban Philanthropic Network (WSPN). 
Michael is a two-time recipient of the DCBA Board of Directors' Award (2013-2014; 2016-2017) and a past recipient of WSPN's Distinguished Service Award (2016). In 2016 he was also recognized by the Naperville Area Chamber of Commerce as one of its Inaugural "Four Under 40" recipients.
In his spare time, Michael enjoys performing as an actor and featured tenor soloist with area theatrical and musical groups. He lives in Lombard with his wife, Elizabeth.