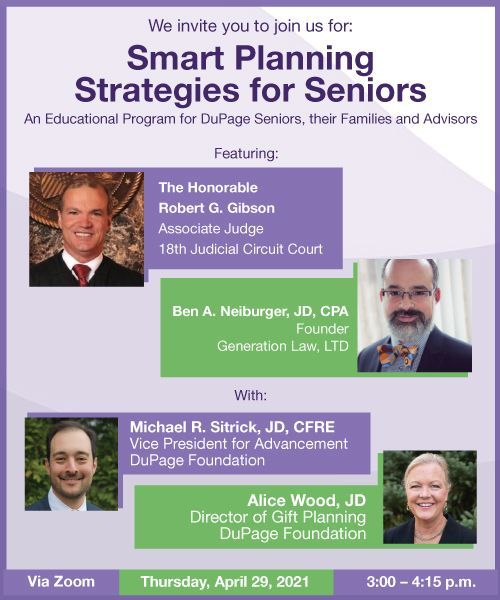 We all know an ounce of prevention is worth a pound of cure. As we and our loved ones age and plan for the future, having a strong understanding of the proper steps to take to ensure that issues such as financial security, powers of attorney, long-term care, and estate and charitable planning are all in order can provide much confidence and peace of mind. But knowing where to start can be overwhelming.
To help navigating these important milestones in life, DuPage Foundation has partnered with some experts in their fields who will join our own experts on charitable giving and estate planning.
Join us for a lively presentation as we provide a roadmap to help navigate these issues.
Specific topics to be covered include:
Understanding the risks and pitfalls of poor planning
A checklist of steps to take to protect yourself and your loved ones as you age and plan
How a team of trusted advisors can ensure your security and that your intentions are honored
Strategies to support the people and causes you care about during your lifetime and after you're gone
Featured Speakers:
(Learn more about each speaker by clicking the link to access a bio)
With:
Registration:
To register for the webinar, scheduled for Thursday, April 29, 3:00 - 4:15 p.m., please click this link to be connected to Zoom registration platform. Reminders will be sent to you as the date draws near.