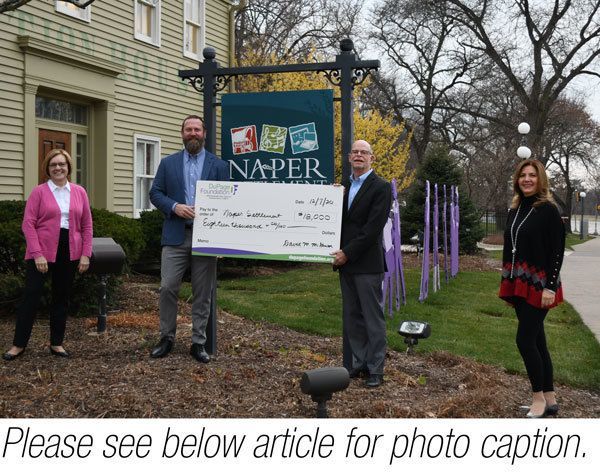 DuPage Foundation is pleased to announce its volunteer grant committee has been working overtime to review and make 80 grants for a total of $763,192 to not-for-profit organizations from two DuPage Foundation grant programs. The funds are being disbursed before the end of the year and have come from either the DuPage Foundation COVID-19 Response Fund or the Community Needs Grant Program. The two grant programs have separate qualifications and application cycles, but happened to coincide along the same schedule, with grants being approved at the November 19 DuPage Foundation Board of Trustees meeting.
Forty-four grants were awarded totaling $400,000 from the DuPage Foundation COVID-19 Response Fund, making the total grant amount awarded from this fund $1,400,000 since April of 2020 in four rounds of grantmaking. Please see dupagefoundation.org/COVID for information about this program, which launched last March to help DuPage County residents during this time of crisis.
In addition, 36 organizations received grants from the Foundation's signature grant program, the Community Needs Grant Program (CNGP). Those grants totaled $363,192 and were awarded to organizations with programs that fell into the categories of Education, Arts & Culture, Environment and Animal Welfare. Please see dupagefoundation.org/CNGP for more information about the Community Needs Grant Program of DuPage Foundation.
On the links above, you can find the amounts and names of the organizations that received grants from each program. More than 130 grant applications were reviewed during the process of making grants by two volunteer committees, chaired by Megan Shebik. Of those, 80 grants were awarded to 73 organizations based on the qualifications and needs of the grantees and the money available to be granted.
Shebik said, "The pain people are experiencing during this pandemic has really ramped up the need in our community. Researching so many worthy applications and making decisions on what we could fund was extremely challenging for our volunteer committee, but they rallied, read through every application submitted, asked great questions, sought answers and I'm very proud of the decisions they made. I wish we could have funded every single qualifying application."
While the COVID-19 Response Fund was created and funded last spring in answer to the emerging pandemic, the Community Needs Grant Program has been a cornerstone of the Foundation's grantmaking process over the past 34 years. CNGP grants are awarded in the spring and fall. The next application deadline for CNGP is March 5, 2021, at 5:00 p.m. and will be directed toward organizations in the category of Health & Human Services.
For more information about DuPage Foundation's grant programs, please contact Barb Szczepaniak, vice president for programs by email through the link above or call 630.598.5280.
Photo caption: DuPage Foundation President & CEO Dave McGowan (pictured second from right) presents a check to Naper Settlement to commemorate the Community Needs grant provided by DuPage Foundation to Naper Settlement with L to R:  Julie Nelligan, director of development, Naper Settlement; John Koranda, immediate past chair, Naperville Heritage Society board; Rena Tamayo-Calabrese, president & CEO, Naper Settlement.