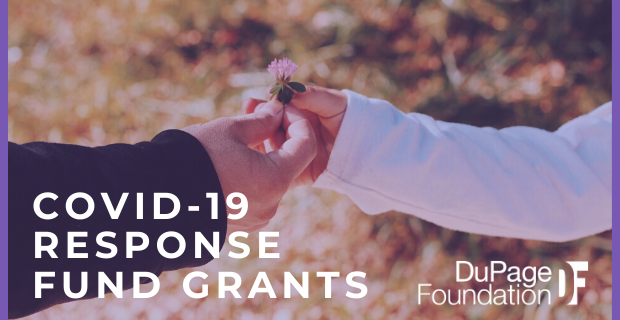 The DuPage Foundation has awarded an additional $200,000 from its COVID-19 Response Fund to 15 DuPage County not-for-profits providing food and emergency assistance, housing, mental health services, access to healthcare, and other support for our most vulnerable neighbors. Since the Fund's inception on March 19, a total of $500,000 in grants have been distributed.
"Increases in family violence, anxiety and depression, disruptions to out-patient programs, and medication compliance are some of the issues NEDFYS is mobilizing to address," said Shannon Hartnett, executive director of Northeast DuPage Family and Youth Services (NEDFYS). "Funding from the Foundation's COVID-19 Response Fund will allow NEDFYS to continue to offer both in-person and telemental health services to residents seeking mental health support during this difficult time."
"I can't describe how grateful the district social workers are to be able to respond to a family when they are looking for support to meet their basic needs, when we can say, yes, we can help," said Wendy Goettsch, executive director of the Naperville Education Foundation. "On behalf of the students and families that our Kid Booster Crisis Fund serves, thank you! The best in humanity is shining through!"
Continued deployment of grants from the Fund will remain flexible to ensure support of current needs as well as those that emerge. Grants will be distributed on a rolling basis as needs and gaps are identified and as additional dollars become available to support awards. DuPage not-for-profits can apply for funding at dupagefoundation.org.
DuPage Foundation COVID-19 Response Fund Grant Recipients, Round 2
Food and Emergency Financial Assistance: $123,500
Housing: $40,000
Technology to Support Virtual Health and Education: $20,000
Employment Support: $10,000
Mental Health: $6,500
An additional 21 grants totaling $300,000 were awarded on April 14 during the first round of grantmaking. See the recipients here.
To date the Foundation has raised $770,000 for its COVID-19 Response Fund thanks to the support of generous lead partners including the Birck Family, the Hyett Family, the Illinois COVID-19 Response Fund, two area private foundations wishing to remain anonymous, the Shebik Family, and grants from the Gustafson Family Foundation and Snodgrass Family Funds of the DuPage Foundation, along with scores of contributions from other individuals, businesses, and foundations.
"We have been in awe of our community's generosity during this time of crisis," said Mike Sitrick, Foundation Vice President for Advancement. "To see people giving directly to their favorite charities and fueling our ability to respond with support for our Fund is huge. However, applications for aid continue to come in with pending grant requests totaling $650,000. This amount is certain to increase in the coming weeks and months, so additional support will be critical as we work to address the fallout from this emergency."
The Foundation encourages donors to continue giving directly to their favorite charities and, for those who are interested and able, to contribute to our COVID-19 Response Fund to help do a world of good, right here in our own back yard, and be part of a powerful, collaborative response to this crisis for our community.
More Information