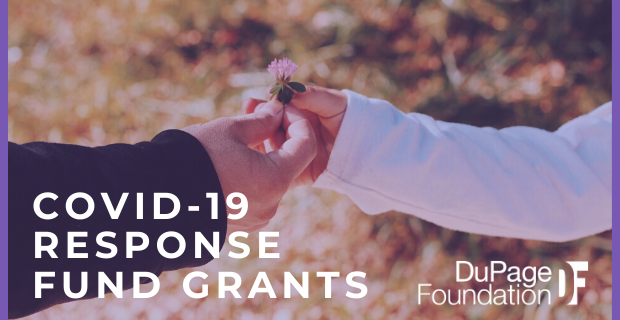 As of April 9, the DuPage Foundation had received 48 not-for-profit grant applications, totaling nearly $1 million in requests, for its COVID-19 Response Fund grant opportunity. With more than $600,000 raised to date, the Foundation is ready to begin deploying these funds to DuPage County not-for-profits on the front line in providing critical aid to local residents who have been most affected by the COVID-19 pandemic. The Fund's first round of grants will be distributed on April 15.
While several themes have been identified in the initial grant requests, including emergency assistance (food, rent, utilities), virtual mental health services, childcare for essential workers, and increased access to healthcare, the deployment of resources from the Foundation's COVID-19 Response Fund will remain flexible to ensure support of current needs as well as those that emerge. Funds will be distributed on a rolling basis as needs and gaps are identified and as additional dollars become available to support grants.
Grant applications will be shared with other funders and government entities that receive state or federal funds for distribution to local not-for-profits. "As with our other grant processes, the Foundation will share the grant applications we receive with our donor-advised fund representatives who will have the opportunity to recommend grants from their funds," said Barb Szczepaniak, Foundation Vice President for Programs. "The generosity of these fund holders helps to significantly supplement the grantmaking we do. Their support is invaluable."
In addition to lead Response Fund donors which include the Birck Family of Hinsdale and Naperville, two area foundations wishing to remain anonymous, the Gustafson Family Foundation Fund, and the Snodgrass Family Fund (both of the DuPage Foundation), the DuPage Foundation received a $100,000 grant from the Illinois COVID-19 Response Fund, established by the United Way of Illinois and the Alliance of Illinois Community Foundations.
"This is a time for all of us in DuPage County to come together to help and support each other," said Megan Shebik, DuPage Foundation Trustee and Grant Committee Chair. "I've been deeply impressed by the collaborative efforts I've seen to date, and am extremely proud of the speed and deliberateness with which the Foundation has acted to create a program to aid our not-for-profits in addressing this crisis for our community. We anticipate that needs within the health and human services sector will be the most critical, but recognize that we must keep flexible in our responsiveness as the repercussions of this pandemic unfold." 
"The Foundation encourages you to continue giving directly to your favorite charities, as they need your support more than ever," added Dave McGowan, Foundation President & CEO. "However, if you are unsure where to give, or would like to help fuel multiple organizations affected by this emergency and serving on the front lines to aid our most vulnerable neighbors, please join us in doing a world of good right here in our own backyard, and make a gift to the COVID-19 Response Fund today."
More Information
About the DuPage Foundation
The DuPage Foundation is DuPage County's philanthropic leader. Established in 1986 to raise the quality of life throughout DuPage County, the Foundation serves our community by helping area residents and organizations realize their unique charitable goals, providing impactful support to our community's not-for-profits, and fostering key partnerships to address critical issues affecting DuPage County.
As a 501(c)(3) public charity, the Foundation receives contributions and bequests from individuals, corporations, organizations and foundations looking to make a difference for our community and the causes about which they are most passionate. Since its inception, the Foundation has grown to more than $95 million in assets and awarded more than $45 million in grants to not-for-profit agencies serving the residents of DuPage County and beyond.
For more information about the Foundation, visit dupagefoundation.org. To arrange future media opportunities, contact Melissa Fischer, marketing manager, at 630.598.5290 or melissa@dupagefoundation.org.