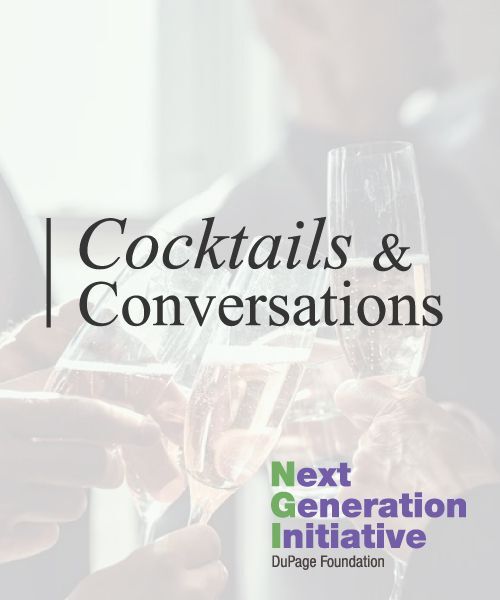 On June 16, DuPage Foundation's Next Generation Initiative (NGI) and the DuPage County Bar Association (DCBA) co-hosted a summer social event that raised $6,000 for Poised for Success, a not-for-profit organization dedicated to providing women with free business attire to inspire confidence and independence.
Held at Pinstripes in Oak Brook, the event featured a clothing drive that brought in more than 225 pieces of donated clothing for Poised for Success.
"The grant and the clothing collected at the event will help us continue our mission of empowering women as they tackle unimaginable obstacles toward gainful employment and self-sufficiency," said Poised for Success Executive Director Gail Foster. "These women all have inspiring stories to share as many of them have overcome adversity through strength, survival and service. Your kindness and generosity will truly help so many amazing women in DuPage County."
Special thanks to Denise Horne and John Pcolinski, along with the DuPage Bar Foundation, for generously matching $3,000 in contributions for the Poised for Success grant. The funds were granted to the organization by the Next Generation Initiative Fund.
"NGI was excited to partner with DCBA and feature Poised for Success to showcase its mission to our membership," said NGI Steering Committee Chair Karen Fleming, CPA. "We appreciate everyone who attended and donated funds or clothing to Poised for Success. The event was a great reminder of the impact pooled giving can have on our community."
NGI's fall social will be held on Thursday, September 29, and will benefit Midwest Shelter for Homeless Veterans.
About Next Generation Initiative (NGI)
More than 15 years ago, DuPage Foundation's Next Generation Initiative (NGI) began with a small group of individuals looking to inspire the next generation of philanthropic leaders to make an impact through their charitable giving. Today, NGI welcomesmembers from different backgrounds and age groups who share a common purpose: to connect, learn and give back as they make a difference in DuPage. NGI hosts a mix of activities for members each year, including social events, volunteer projects, and more. Since its inception, NGI has granted more than $120,000 to local not-for-profit organizations. For more information on joining NGI and sponsorship opportunities, please visit
dupagefoundation.org/NGI.