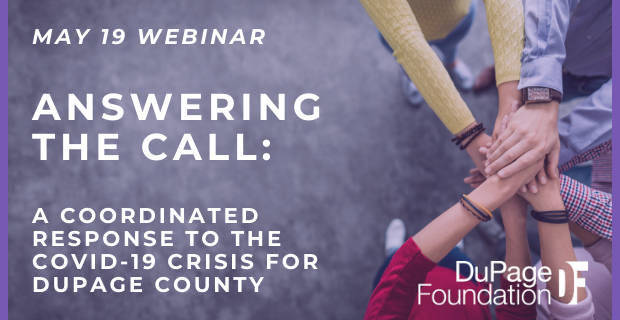 You're invited to a webinar!
Answering the Call: A Coordinated Response to the COVID-19 Crisis for DuPage County
Tuesday, May 19, 2020
1:00 pm - 2:15 pm
The effects of the COVID-19 pandemic can be felt around the globe, including here in DuPage County. From economic loss and rising unemployment, to a host of challenges including access to food, housing, and health services, many of our neighbors are experiencing hardships at an unprecedented level.
But here at the DuPage Foundation, we believe that, together, we can accomplish more than any one of us could alone. That's why we have been working diligently with our donors and community partners to forge a coordinated response to aid our area not-for-profits and other agencies addressing this emergency on the front line.
Join DuPage Foundation leaders and a panel of local experts including Dan Cronin, DuPage County Board Chair; Karen Ayala, Executive Director of the DuPage County Health Department; and Mary Keating, DuPage County Director of Community Services for a virtual conversation about the impact of COVID-19 on our community and how our local government, not-for-profits, funders, and community members are answering the call for help.
During this program you'll learn about the latest local health statistics, the evolving needs and concerns of our residents and not-for-profits, and opportunities to help including new charitable incentives available under the CARES Act, the DuPage Foundation's COVID-19 Response Fund, and providing continued direct support to your favorite charities.
RSVP via Zoom by May 15. Zoom webinar details will be provided upon registration.
Presenters:
Karen Ayala, MPH
Executive Director
DuPage County Health Department
Dan Cronin, JD
Board Chair
DuPage County
Mary Keating
Director of Community Services
DuPage County
Dave McGowan, CFRE
President & CEO
DuPage Foundation
Megan Shebik
Trustee & Grant Committee Chair
DuPage Foundation
Mike Sitrick, JD, CFRE
Vice President for Advancement
DuPage Foundation
Barb Szczepaniak
Vice President for Programs
DuPage Foundation
Questions? Contact Kait Balsewicz at kait@dupagefoundation.org or 630.598.5292.