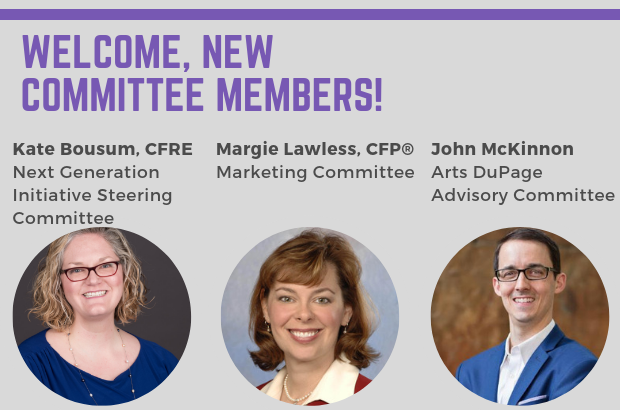 The Foundation is pleased to welcome three new committee members, approved at the May 16 Board of Trustees meeting. "The Foundation relies on volunteers who have strong skills in a variety of expertise areas," said Dave McGowan, Foundation president and CEO. "We're continually impressed by the level of commitment our volunteers show toward improving the quality of life in DuPage County." We thank our new and long-time volunteers for their service and for all that they do on behalf of our community.
We welcome the following new committee members:
Kate Bousum, CFRE
Next Generation Initiative Steering Committee
Bousum serves as the director of advancement at Child's Voice, which provides education and support to children with hearing loss. A seventeen-year fundraising and special events veteran, Bousum's career has spanned higher education, social services, and education in both small and large advancement/development teams. She is involved in many professional organizations including the Association of Fundraising Professionals Chicago Chapter, West Suburban Philanthropic Network, and the Greater Oak Brook Chamber of Commerce. Bousum also volunteers at her local elementary school, church, and library. "I am honored to be a fundraiser, but more importantly, to be part of the philanthropic sector," Bousum said. "Engaging with and empowering others to support the incredible causes in our community is special; what the Next Generation Initiative offers is unique and has awesome impact, and I'm excited to be a part of this team!"
Margarette Lawless, CFP®
Marketing Committee
Lawless concluded a long and impressive career with BMO Harris Bank (1992 - 2018) as senior vice president, overseeing retail business risk for 600 locations across eight states with 5,000 employees. Her community service background is extensive, including board terms for The Morton Arboretum Advisory Board, Wellness House, and College of DuPage Foundation, among others. Lawless has lived in DuPage County for 40+ years and was motivated to volunteer with the Foundation as a way to give back to her community. "I'm so proud to help with the mission of Foundation and all the good works they support in our communities," she said. Lawless is a new, and vital, voice to the Marketing Committee, where she is providing expertise for the team's ongoing awareness engagement.
John McKinnon
Arts DuPage Advisory Committee
McKinnon has more than 12 years of curatorial and administrative experience at major art institutions. As current executive director of the Elmhurst Art Museum, he oversaw the fundraising and restorations to Mies van der Rohe's McCormick House, revealing the full exterior for the first time in nearly 25 years. Previously McKinnon held roles at the Art Institute of Chicago and the Milwaukee Art Museum. He was recently appointed as a member of the City of Elmhurst's Public Arts Commission and will bring his unique experiences to the Arts DuPage Advisory Committee. "I'm excited to help promote artists and arts organizations in the western suburbs," McKinnon said. "I hope to bring more awareness to the unique talent and cultural assets that enrich DuPage County."