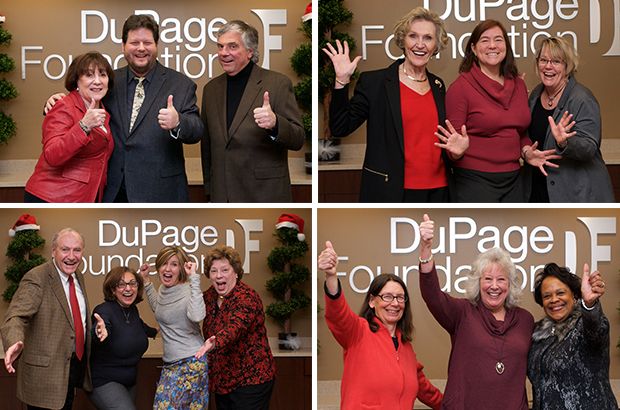 The DuPage Foundation is pleased to announce the awarding of nearly $270,000 in grants to 30 DuPage County not-for-profits working in the areas of Animal Welfare, Arts and Culture, Education, and the Environment as part of its 2018 fall Community Needs grant cycle. Grants were distributed at the Foundation's Holiday Open House on December 12.
The Foundation received 60 applications as part of the fall grant cycle and 53 this past spring, significantly surpassing the total number of grant requests from previous years. "The increase in requests illustrates the growing need for funding that our county's not-for-profits are facing," explained Barb Szczepaniak, Foundation vice president for programs. "As the number of requests increase, we cannot be more appreciative of our generous donors and fund advisors whose support increases our Community Needs budget." Because of grant recommendations from advisors to its donor-advised funds, the Foundation was able to fund an additional $234,000 to support area organizations' projects in 2018.
For example, advisors for the Perma-Seal Fund recommended a grant which ultimately enabled the Foundation to award $20,000 to Literacy DuPage's tutoring program for non-English speaking adults. Executive Director Therese McMahon thanked both the Foundation and the Spencer family with Perma-Seal for supporting Literacy DuPage's mission. "We teach people how to speak, understand, read, and write in English, and we're specifically planning to work with employers in DuPage County, including Perma-Seal, to help employees improve their work-based literacy through tutoring," McMahon said. "This grant means the world to us and to so many of our learners."
New to this year's fall grant categories was the introduction of animal welfare. An example of how the Foundation connects donors with causes they care about, the animal welfare category was created because a donor's lifelong love for his dogs inspired him to establish the Companions' Fund, an endowment wholly-focused on animal welfare projects. The fund will support approximately $25,000 in animal welfare grants per year in perpetuity. 
A.D.O.P.T. Pet Shelter is thrilled to be a first-time recipient of a grant from the Foundation. "This grant will allow A.D.O.P.T. to help pets and their families who are experiencing a personal crisis due to illness, hospitalization, rehab, foreclosure, etc. by providing short-term foster care for their pet," said A.D.O.P.T. Executive Director Chris Stirn. "This allows the family time to focus on healing without the worry of losing their beloved family member."
The following organizations were selected to receive funding through the Foundation's fall Community Needs cycle and recommendations from representatives of Foundation donor-advised funds:
Animal Welfare: $25,675
A.D.O.P.T. Pet Shelter: $7,500
Naperville Area Humane Society: $10,675
West Suburban Humane Society: $7,500
Arts & Culture: $94,100
Century Walk Corporation (Funded by the JCS Fund): $20,000
Chicago Sinfonietta (Funded by the JCS Fund): $15,000
ClaySpace (Funded by the JCS Fund): $2,500
College of DuPage Foundation: $16,000
DuPage Art League (Funded by the JCS Fund): $9,100
DuPage County Historical Museum Foundation (Funded by the History DuPage Fund): $2,500
DuPage Symphony Orchestra: $10,000
Elmhurst Choral Union (Funded by the Mary Eleanor and James M. Wall Fund): $2,500
Glen Ellyn Wheaton Chorale: $2,000
Paramount Arts Centre: $4,500
Senior Suburban Orchestra (Funded by the JCS Fund): $2,500
St. Andrew Lutheran Church: $2,500
Storycatchers Theatre (Funded by the Shebik Family Fund for Basic Human Needs): $2,500
Young Naperville Singers: $2,500
Education: $108,500
Alive Center NFP: $10,000
Community House: $10,000
Dare to Dream: Get Educated! (Partially funded by the Donor-Advised Fund for Needy Children): $8,500
DuPage Children's Museum: $10,000
The GardenWorks Project: $2,500
Glen Ellyn Children's Resource Center (Partially funded by the JCS Fund and Perma-Seal Fund): $15,000
KidsMatter: $20,000
Literacy DuPage (Partially funded by the Perma-Seal Fund): $20,000
North Central College (Funded by Betty W. Smykal): $2,500
Robert Crown Center for Health Education: $10,000
Environment: $40,000
Conservation Foundation: $14,000
Fermilab Natural Areas: $12,000
SCARCE: $14,000
Total Community Needs Grant Funding Awarded: $268,275
See project descriptions for each of the grantees here.
During this past fiscal year, $4.8 million was awarded from the Foundation's more than 300 funds on behalf of our donors and community. 
Applications for the Community Needs Grant Program are accepted twice per year. Health and Human Services grant applications are due Friday, March 1, 2019. See more information and apply here.
About the DuPage Foundation
The DuPage Foundation is DuPage County's philanthropic leader. Established in 1986 to raise the quality of life throughout DuPage County, the Foundation serves our community by helping area residents and organizations realize their unique charitable goals, providing impactful support to our community's not-for-profits, and fostering key partnerships to address critical issues affecting DuPage County.
As a 501(c)(3) public charity, the Foundation receives contributions and bequests from individuals, corporations, organizations and foundations looking to make a difference for our community and the causes about which they are most passionate. Since its inception, the Foundation has grown to more than $95 million in assets and awarded more than $40 million in grants to not-for-profit agencies serving the residents of DuPage County and beyond.
For more information about the Foundation, visit dupagefoundation.org. To arrange future media opportunities, contact Melissa Fischer, marketing manager, at 630.598.5290, or melissa@dupagefoundation.org.