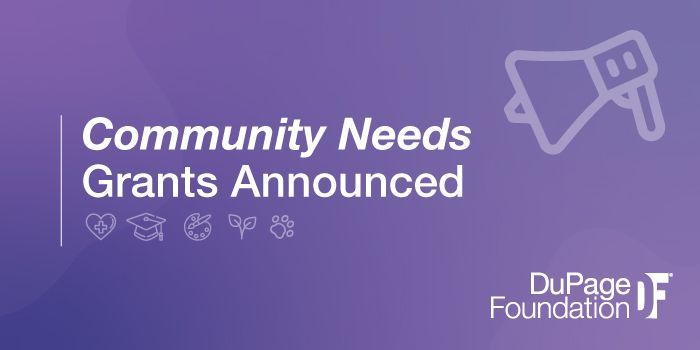 Fall 2021 Grant Recipients
Total Education Grants (16): $248,693
Funded by an anonymous donor
To support the free After School Drop-in program that supports mental health and provides a place for teens to come together, learn, create and be empowered in a safe and supervised environment.

To provide diverse resources in an inclusive manner to individuals seeking employment and career advancement.

Funded by Kenneth Brooks Holland Memorial Fund
To support the Child's Voice Early Intervention program that gives young children with hearing loss the foundation and critical skills needed to learn to listen, speak and succeed.

To support the Build Creo initiative to help Latinx students prepare for college.

Funded by JCS Arts, Health and Education Fund
To support Arts & STEM with DCM that provides in-person science, math, and art-based learning experiences for low-income, DuPage County students age 6 - 12 in their classroom or at the Museum.

To support the Public Benefits Train-the-Trainer program to train provider staff to educate and empower clients to effectively link to public benefits and community resources.

To support New Neighbor programs that provide refugees with English language practice, acclimation support, citizenship preparation and academic tutoring for youth.

Funded by Martha J. Johnson Fund
To purchase iPad tablets and exercise machines to foster increased physical activity for children on the autism spectrum.

Partially funded by the JCS Arts, Health and Education Fund and Cleo F. Burtis and James E. Comerford Fund
To provide after school and summer enrichment programming that supports the academic and social-emotional growth of under-resourced K-12 students as they return to school during the pandemic recovery.

Partially funded by the Sue Wallace Fund and Betty W. Smykal
To provide year-round financial literacy education via workshops and individual coaching empowering low-to-moderate income individuals and families to achieve self-sufficiency and financial stability.

Partially funded by Molex
To strengthen the mental health of young people through educational programs.

Partially funded by Joan Morrissey
To support accessible one-to-one tutoring for adults whose goals are to increase their English language and literacy skills and to gain self-sufficiency.

Partially funded by the Harbaugh Family Fund and Joan Morrissey
To support trade apprenticeship programs for young men and women ages 17-24 who are not college bound.

Funded by an anonymous donor
To provide social services and educational, recreational and arts opportunities to children and families residing in the low-income/high need Willowbrook Corner neighborhood.

Funded by Edward & Minnie Ceragioli Fund
To purchase SMART Boards to enhance autistic students' classroom experiences.

Funded by Donor Advised Fund for Needy Children and Linda and Clark G. Carpenter Fund
To support the Our Books to You program that provides free gently-used and new books for children who do not usually have access to books at home
---
Total Arts & Culture Grants (9): $109,500
To provide mentorship to help African American and other high school youth prepare for the ACT-SO competition.

To support general operations to enlighten, educate, and entertain audiences through musicals and comedies both during and after COVID-19.

To support educational, outreach and production capabilities.

Funded by History DuPage Fund
To acknowledge and celebrate local authors, past and present. To discuss iconic literary works and their influence in DuPage.

Funded by an anonymous donor
To provide symphonic orchestra, chamber concerts, and outreach programs that are educational and accessible to young people, families and seniors.

To support the exhibition and free educational programming for Houses of Tomorrow to examine, explore and demonstrate a history of solar innovations.

Funded by Mary Eleanor and James M. Wall Fund
To support the cost of musicians and publicity for a collaborative project with the Lizzadro Museum of Lapidary Art

To support concerts at retirement and impaired memory facilities.

Funded by JCS Arts, Health and Education Fund
To provide art seminars, featuring Pilsen artists, to Latino youth in DuPage County.
---
Total Environment Grants (3): $45,000
To support environmental programs that engage people of all ages to protect and conserve natural resources.

To support the Youth Volunteer program which enables students to learn about science and environmental careers while experiencing nature and mentorship opportunities.

Partially funded by Beles Family Fund
To support programs where participants will gain an appreciation for nature and its conservation, as demonstrated by earning conservation-related merit badges.
---
Total Animal Welfare Grants (3): $29,000
Funded by Edward & Minnie Ceragioli Fund
To support veterinary care for stray, feral and adoptable cats and kittens.

To support the Hut facility, which serves as a temporary home for rescued dogs, and to microchip each dog in the foster care program.

To provide quality veterinary care to optimize the adoptability of dogs and cats.