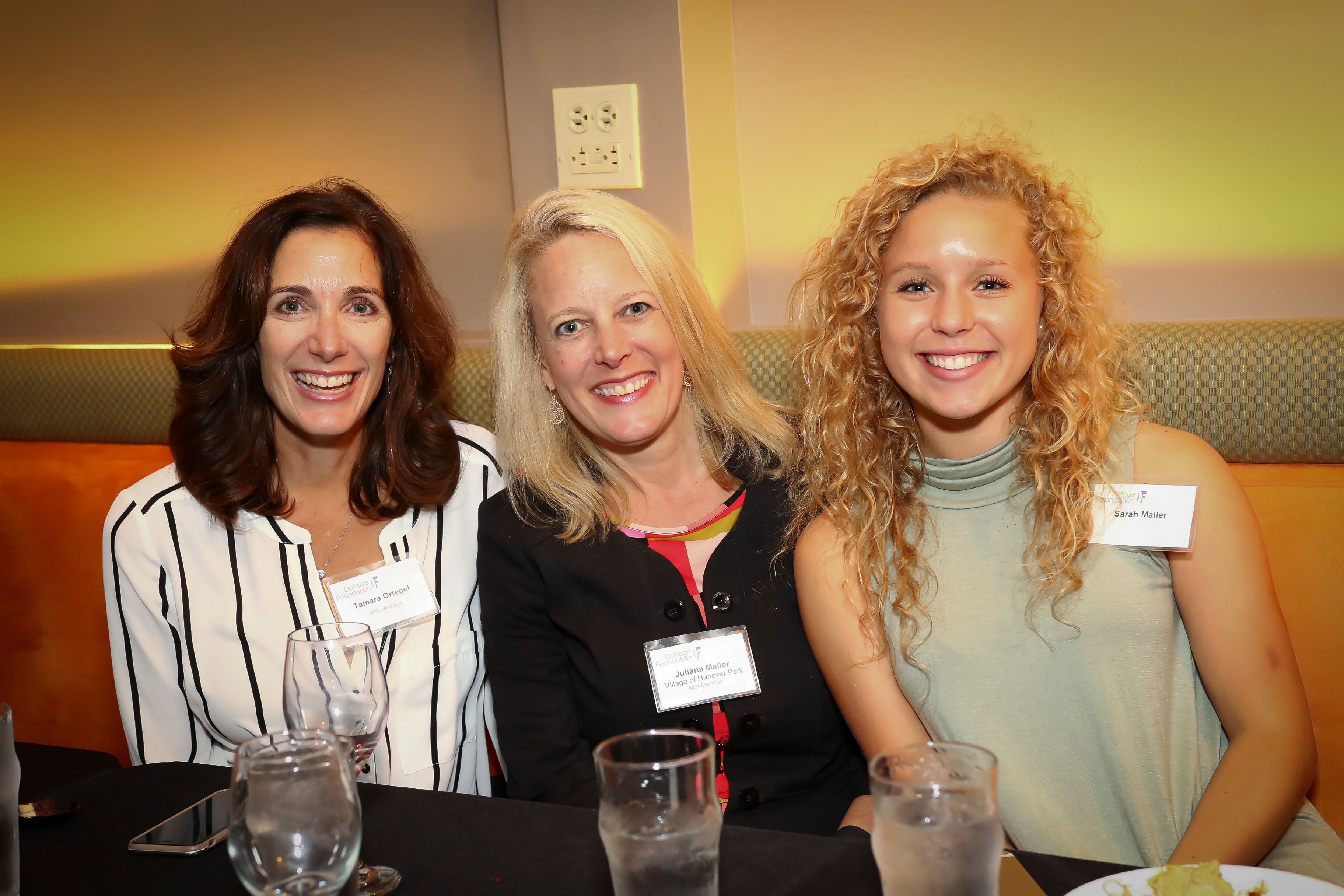 DOWNERS GROVE, Illinois—The DuPage Foundation's Next Generation Initiative recently hosted its Annual "Fall Fling" at Flight 112 in Elmhurst on September 27. During the event, the NGI was pleased to highlight the efforts of two area charities—Family Shelter Service and Ronald McDonald House Charities of Chicagoland & Northwest Indiana (with a focus on its house near Central DuPage Hospital)—and preview volunteer opportunities with them while also raising funds in support of their missions. Nearly 50 people attended and donated to help provide more than $3,600 in grant support for the two organizations in conjunction with the NGI.
The NGI would like to extend a special thank-you to event sponsors the Maurer Group of Merrill Lynch, Stahl Cowen LLC and First Midwest Bank for helping make the evening possible, and to DuPage Medical Group Charitable Fund, the NGI's 2017 Lead Corporate Partner; and Giving DuPage, its Volunteer Opportunities Partner.
The NGI will continue to support its "Fall Fling" featured charities with two upcoming volunteer opportunities. You can register for these opportunities by clicking on the links below:
Family Shelter Service is committed to serving those affected by domestic violence by providing a network of dynamic, interconnected programs and by empowering individuals and families to realize their potential. Family Shelter Service has become a vital resource and an organizing force in the community around the issue of domestic violence.
Ronald McDonald House near Central DuPage Hospital is located near the Central DuPage Hospital (CDH) Campus in Winfield, Illinois and serves families with pediatric patients being treated at CDH, Delnor Hospital or the CDH Cancer Center and Northwestern Medicine Chicago Proton Center.
About the DuPage Foundation and its Next Generation Initiative
The DuPage Foundation is DuPage County's philanthropic leader. Established in 1986 to raise the quality of life throughout DuPage County, the Foundation serves our community by helping area residents and organizations realize their unique charitable goals, providing impactful support to our community's not-for-profits, and fostering key partnerships to address critical issues affecting DuPage County.
As a 501(c)(3) public charity, the Foundation receives contributions and bequests from individuals, corporations, organizations and foundations looking to make a difference for our community and the causes about which they are most passionate. Since its inception, the Foundation has grown to nearly $90 million in assets and awarded nearly $35 million in grants to not-for-profit agencies serving the residents of DuPage County and beyond.
The DuPage Foundation's Next Generation Initiative (NGI) is a group of community-minded individuals working to effect a positive impact within DuPage by engaging and empowering our county's next generation of philanthropic leaders and volunteers and providing them with opportunities to connect, learn and give back. To facilitate this goal, the NGI hosts a mix of activities for its members each year including educational programs focusing on philanthropy, introductions to DuPage area not-for-profits, group service projects and social events. The NGI also encourages its members to participate in pooled giving through a permanent endowment fund by making fully tax-deductible annual dues and other contributions. The earnings from the fund are then used by the NGI to make grants in support of local not-for-profit organizations selected by its members.
To learn more about the DuPage Foundation, its Next Generation Initiative, or to become an NGI member or event sponsor, please visit www.dupagefoundation.org. To arrange future media opportunities, please contact William Pearch, marketing manager, at 630.598.5290, or bill@dupagefoundation.org.