Frequently Asked Questions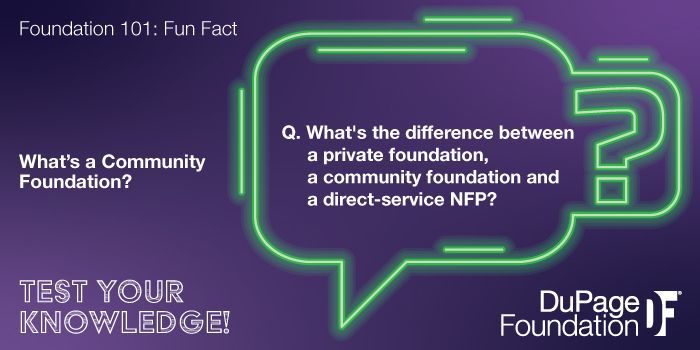 What's the difference between a community foundation, a private foundation, and a direct-service NFP?
Community Foundation – A community foundation is a 501(c)(3) public charity devoted to a geographic or social service area. Community foundations are often focused on providing charitable services to local donors, distributing grants to address a local community's needs, and building charitable endowments on behalf of donors, not-for-profits, and certain areas of interest (e.g., basic human needs, education, the environment, the arts, etc.). DuPage Foundation is proud to serve DuPage County as its community foundation.
Private Foundation (aka Family Foundation) – A private foundation is a charitable entity typically founded and supported by an individual, family or business. Private foundations can support a bevy of causes ranging from specific issue areas to focusing on family or business interests. Private foundations can be effective but are often expensive to setup and burdensome to administer.
Direct Service Organizations – As the name implies, direct service organizations are typically 501(c)(3) organizations that work directly with their target population to provide specific charitable services. Food pantries, mental health services, and transitional housing organizations are all great examples of direct service organizations. DuPage Foundation supports the area's direct service organizations (aka not-for-profits or NFPs) with grant funding.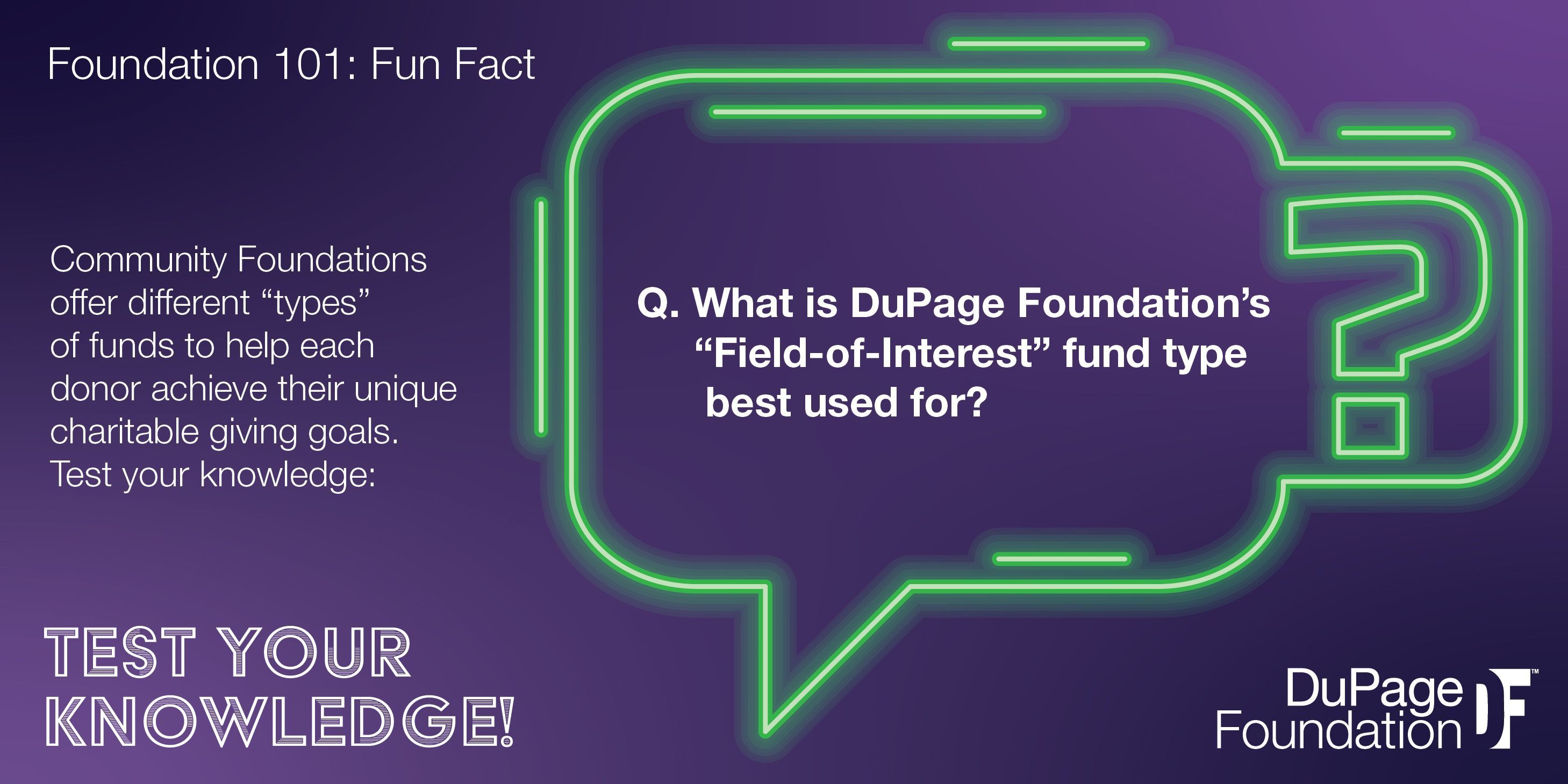 What is DuPage Foundation's "Field-of-Interest" fund type best used for?
Field-of-Interest funds are the perfect way for donors who care about our community and specific areas of interest to make a difference beyond supporting just one not-for-profit.
Whether you care about the arts, basic human needs, the environment, education and literacy, mental health, animal welfare, or something else, you can give through DuPage Foundation to support an existing fund or create a new one to meet your goals!
Contributions to these funds are combined with gifts from other donors who share your passion and are invested thoughtfully in a permanent endowment designed to grow over time. The funds' annual earnings are then used to make impactful grants to local not-for-profits that are working within each fund's respective area. Grant awards are determined by the Foundation's Grant Committee and Board through a competitive application process. To learn more and explore the current Field-of-Interest funds available, see DuPage Foundation Field-of-Interest Funds page.