Transfer of Wealth Study Reveals Prime Opportunity for Local Charitable Impact
According to a study titled "Illinois Transfer of Wealth Opportunity," published by LOCUS Impact Investing with support from Forefront, the Alliance of Illinois Community Foundations and others, it is estimated that $434 billion will transfer through Illinois estates over the next 10 years, with nearly $53 billion passing through DuPage County estates alone. While it's hard to know what the tax ramifications will be, imagine what good could come from this transfer of wealth if as little as 5 percent of it were directed to charitable causes, creating a $2.65 billion community endowment.
At a local level, that estimated wealth to be transferred could annually support DuPage County's most pressing needs and other causes that enrich our local quality of life: from area food banks and homeless shelters to mental health service providers, humane societies, arts and cultural groups, educational programs, environmental organizations, and scores of other worthwhile organizations. Furthermore, as this endowment grows over time, 20 years from now it could generate as much as $151 million annually in vital grant support.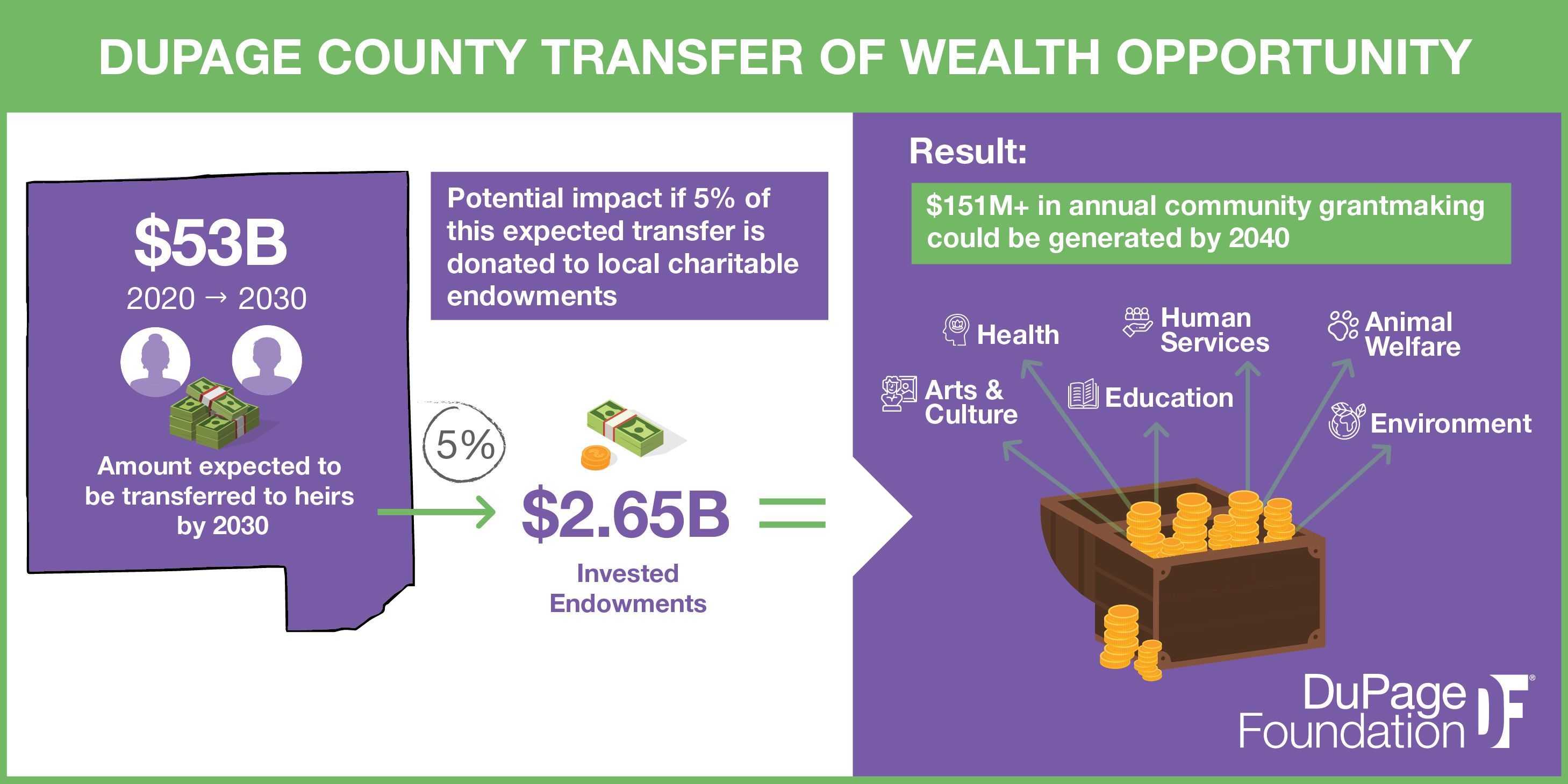 How Can You Help?
We are so much more impactful when we combine our resources to meet the needs of our community. That's what DuPage Foundation does best—matches passions and resources with needs and opportunities. Whether you choose to give in support of our DuPage Forever Fund, which addresses all of our community's needs, a particular field of interest, or a fund to accomplish your personal goals, together we can raise the quality of life for the residents of our county for generations to come.

Create a Legacy

DuPage Foundation's Legacy Society exists to provide people who share a love for our community a means in which to unite in making transformational change by committing a charitable gift from their estates.
Consisting of 171 known members and representing tens of millions of dollars in commitments, the Legacy Society honors our generous and forward-thinking donors who have included DuPage Foundation in their estate plans.
Work with us and your attorney, financial planner, and other advisors to facilitate your wishes. From naming DuPage Foundation in your will or trust to including it as a beneficiary of your retirement assets, or a life insurance policy, there are a number of ways in which you can support the causes and organizations you love—throughout our community and beyond.