Maureen Brink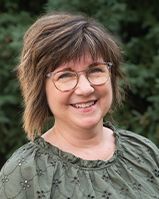 Maureen Brink | Administrative Assistant
Phone: 630.665.5556
Email: maureen@dupagefoundation.org
LinkedIn
Maureen joined the DuPage Foundation staff in August 2022 as administrative assistant. In her role, Maureen assists Foundation staff in the daily operations of the organization by providing administrative support for its various departments and executive team members.
Prior to joining the Foundation, Brink worked as a team manager for several different real estate teams, supporting the day-to-day operations of residential property transactions. She also is a volunteer ESL tutor through the Dominican Literacy Foundation and board member of the not-for-profit organization Friends of Imiliwaha
Maureen holds a bachelor's degree in English and French from the College of the Holy Cross. She is a lifelong resident of DuPage County and currently resides in Aurora.