Upcoming Events
Visual Arts Virtual Happy Hour Hosted by Arts DuPage, a DuPage Foundation Initiative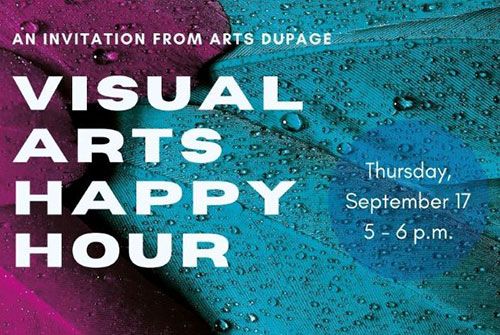 Join Us for a Visual Arts Virtual Happy Hour!
The arts community is a resilient one! Let's get together with friends and fellow creatives to discuss the challenges and victories we face during this time of shut down. Arts leader and educator Denise Laurin-Donatelle will guide us as we engage in lively conversation and share ideas that will inspire and motivate. Grab your drink of choice and and enjoy a safe and enlightening hour of fun!
Registration required. Once you sign up, you will receive a link to the Zoom meeting on Thursday, September 17 at 5:00 p.m.
About the Facilitator
Denise Laurin-Donatelle is an artist, teacher and mentor. She has exhibited widely throughout the Chicago area including Triangle Gallery, The Fine Arts Building Gallery and The Chicago Cultural Center. In 2009, she relocated to New York City where she exhibited at several venues and led a group show under the sponsorship of the Museum of Modern Art. She returned to Chicago in 2014.
Prior to her fine art practice, Denise established a graphic design business and won numerous local and national awards for her work over a twenty year period. She was honored as "Woman of the Year" by Women in Design/Chicago for her excellence in design and for the example she set for other designers with her approach to work/life balance.
Note for the Performing Arts Community: A special virtual happy hour facilitated by Amy Bamberger has been scheduled for Thursday, September 10 at 5:00 pm.