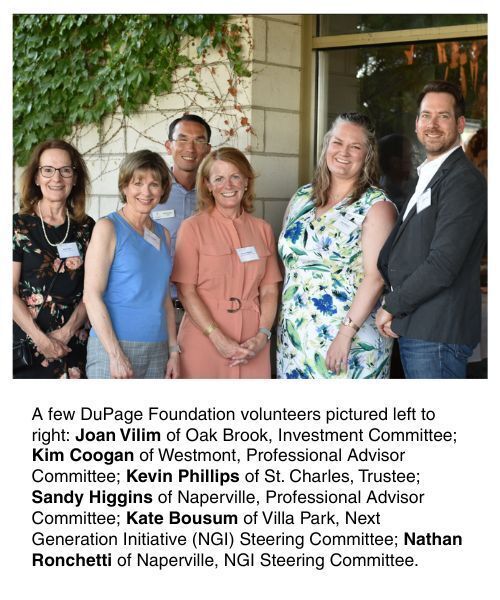 In celebration of National Volunteer Week, April 16 – 22, 2023, DuPage Foundation is proud to recognize the dedicated service of more than 150 volunteers who donate their time and talents to advance the work of the Foundation.
The theme for this year's National Volunteer Week is "United We Serve," since we are all stronger together. National Volunteer Week highlights the importance of volunteerism and how every individual can create meaningful change. It's an opportunity to recognize and thank volunteers who lend their time, talents, voice, and resources to meet the critical needs of their respective communities.
"Volunteers play a vital part in helping us deliver the impact we provide for our community and partners," said DuPage Foundation President & CEO Mike Sitrick, JD, CFRE. "From our 24-member Board of Trustees to our more than 100 advisory committee members and office volunteers who work closely with our staff and constituents to advance our mission, we could not accomplish what we do without their support. It's our pleasure to recognize their critical contributions each day—but especially during this week of celebrating service."
The volunteers who give their time and talents to DuPage Foundation make a difference every day in helping to raise the quality of life throughout DuPage County.
"DuPage Foundation has shown me how to share my talents in a way that positively impacts so many people in our community," said Matt Booth, senior vice president of corporate development, Allant Group. "I'm forever grateful."
The Foundation is pleased to welcome the following new volunteers to our advisory committees:
Jill Chittenden – Benefit Committee
Jill Chittenden is a scientific illustrator with a degree in Medical Illustration from the University of Illinois and a Botanical Art Certificate from The Morton Arboretum. Jill served for six years as a board member for the Elmhurst District 205 Foundation where, in addition to her board duties, she contributed her skills as a graphic artist. She has also worked on various benefit planning committees for the Elmhurst Art Museum.
Kim Dorn – Glen Ellyn Fund Advisory Committee
Kim Dorn has lived in Glen Ellyn for more than 30 years. Her career began in computer technology. She later ran a consulting business and worked at the College of DuPage Foundation as director of corporate development. Kim is on the board of directors at the Glen Ellyn Food Pantry, is a member of the Glen Ellyn Woman's Club, and the League of Women Voters Glen Ellyn.
Cynthia Hyett – Benefit Committee
Cynthia Hyett was born and raised in the suburbs of Chicago. After an early career in fitness, she followed her passion for cooking and attended culinary school at Le Cordon Bleu in Las Vegas, graduating summa cum laude. Today, she runs a catering company called Busy Butternut, named for comfort, whimsy, and home. She dedicates her volunteer time to DuPage Foundation's Benefit Committee and Next Generation Initiative (NGI).

Nick Keseric – Benefit Committee
Nick Keseric is an Oak Brook resident and a business development leader at Republic Bank of Chicago. He has spent his career in strategic planning and business development roles within the banking industry and has served as senior vice president of marketing for US Trust and Northern Trust. Nick is a graduate of Elmhurst College and a member of DuPage Foundation's Benefit Committee, generously sharing his time and talents.
Get Involved: Volunteer at DuPage Foundation
Community members looking to volunteer at DuPage Foundation may inquire about opportunities suited to their interests and individual fields of expertise. From financial operations to marketing, there are currently 15 advisory committees that work with staff to advance the Foundation's vision of raising the quality of life throughout DuPage County. Office volunteers and interns are also welcome throughout the year and help staff with day-to-day operations. To learn more, contact Karen Vicary, office manager, at 630.665.5556 or karen@dupagefoundation.org.
About DuPage Foundation
DuPage Foundation, a 501(c)(3) community foundation, is the philanthropic leader in DuPage County, Illinois. DuPage Foundation manages more than $130 million in assets and has awarded more than $75 million in grants since its founding in 1986. Individuals and organizations seeking to provide impactful support to address critical issues in DuPage County and beyond can create powerful customizable gift solutions and partnerships through DuPage Foundation. More at dupagefoundation.org. Doing a world of good in our own backyard.®