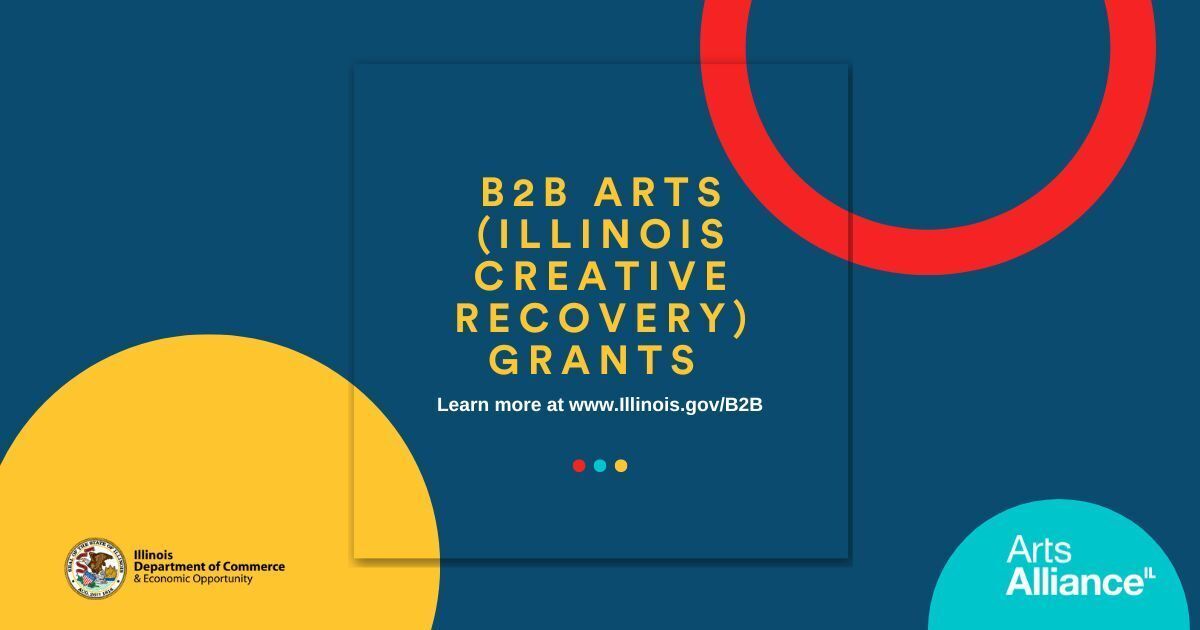 Illinois Department of Commerce and Economic Opportunity Now Accepting Applications for B2B Arts Grants, with Free Resources Available to Help Artists Secure Funds
Arts DuPage, a DuPage Foundation initiative, is encouraging area artists and arts organizations to apply for the Illinois Creative Recovery/Back to Business (B2B) Arts Grant. A historic $50 million in grant money is being distributed by the Illinois Department of Commerce and Economic Opportunity (DCEO) to assist businesses, not-for-profit organizations, sole proprietors, freelancers, and independent contractors in the creative sector that have suffered losses because of the COVID-19 pandemic.
Arts DuPage is working in collaboration with Arts Alliance Illinois to raise awareness of this funding opportunity and help applicants successfully navigate eligibility requirements. Applications are open from April 5 to May 10. The DCEO application and more information about the grant can be found at https://dceo.illinois.gov/smallbizassistance/b2b.html.
"The arts and creative sector was among the hardest hit by the COVID-19 pandemic," said Deborah Venezia, director of Arts DuPage. "This funding opportunity will help our community continue to reopen and recover. We are here to serve as a resource for those interested in applying, and we encourage anyone with questions to reach out. This is a historic opportunity for the arts sector."
Arts Alliance Illinois is offering several free resources to assist applicants with the DCEO grant application process, including webinars, as well as a helpdesk that will guide prospective applicants through their questions. Arts Alliance webinars will take place throughout the application window. Visit artsalliance.org/creativerecovery for more information about the grant and available resources.
B2B Arts Grant, (also known as the Illinois Creative Recovery Grant), will be distributed by DCEO to eligible applicants including sole proprietors, freelancers, independent contractors, independent live venue operators, performing or presenting arts organizations, arts education organizations, cultural heritage organizations, and museums that have:
Experienced a loss in earned and/or contributed revenue of at least $5,000 due to economic disruptions related to the COVID-19 pandemic.
Been in operation in Illinois prior to March 12, 2020, and remain in operation at time of application.
Awards provided to eligible businesses and not-for-profit organizations under this program will be sized based on losses incurred due to the COVID-19 pandemic, with a minimum award of $5,000. All applicants will receive a grant as long as they meet eligibility requirements, submit proper documentation, and attestations required by the program. For more information visit https://dupagefoundation.org/initiatives/arts-dupage.html or contact debbie@dupagefoundation.org.
About Arts DuPage
Arts DuPage supports, promotes, and advocates for the arts in DuPage County. An initiative of DuPage Foundation, Arts DuPage stimulates engagement and investment in the County's vast cultural landscape through artsdupage.org, its comprehensive website for all things art.
About DuPage Foundation
DuPage Foundation, a 501(c)(3) community foundation, is the philanthropic leader in DuPage County, Illinois. DuPage Foundation manages more than $130 million in assets and has awarded more than $75 million in grants since its founding in 1986. Individuals and organizations seeking to provide impactful support to address critical issues in DuPage County and beyond can create powerful customizable gift solutions and partnerships through DuPage Foundation. More at dupagefoundation.org. Doing a world of good in our own backyard.®