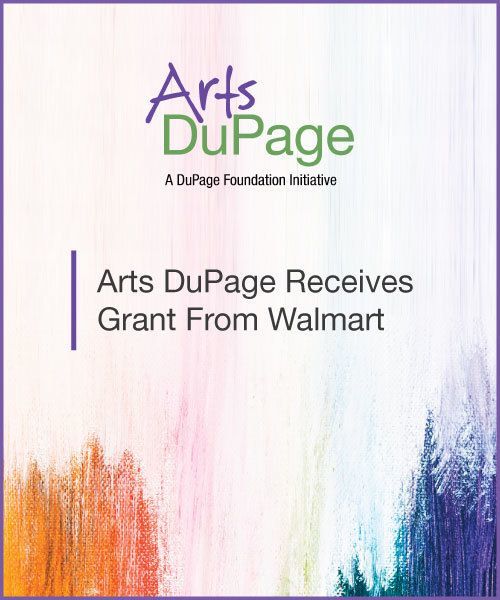 Arts DuPage, a DuPage Foundation initiative, received a $2,500 grant from Walmart as part of its community grants program that provides funding directly from Walmart and Sam's Club facilities to local organizations in the U.S. The grant was issued from the Sam's Club in Addison.
"We are grateful to be recognized by Walmart as an organization that positively impacts the community," said Debbie Venezia, director of Arts DuPage. "Arts DuPage was created in 2016 as the first county-wide arts council in the region. Since then, we have worked with hundreds of artists and arts organizations to increase engagement and investment in the arts across DuPage County.
To be eligible for the program, organizations must operate on the local level (or be an affiliate/chapter of a larger organization that operates locally) and directly benefit the service area of the facility from which they are requesting funding.
Arts DuPage is best known for artsdupage.org, its comprehensive event website for arts and entertainment. Through this platform, Arts DuPage showcases the vibrant local arts community, which generates cultural, economic, and social benefits for DuPage County and its residents.
Last year, Arts DuPage launched its ChARTer membership program, built for DuPage County arts organizations, artists, and arts supporters. The program offers member-only benefits and helps Arts DuPage support, promote and advocate for the arts. Members have attended exclusive tours of exhibits and arts facilities, including Frida Kahlo: Timeless and the Lizzadro Museum of Lapidary Art. Most recently, Arts DuPage members met at Cantigny Park to preview sculptures and talk to the artists behind the upcoming Alebrijes: Creatures of a Dream World exhibit.
Support Arts DuPage
To support Arts DuPage as a member, arts lover, sponsor or supporter of its ChARTer membership program, please visit dupagefoundation.org/ArtsMembership. Donations to the Arts DuPage initiative can be made through DuPage Foundation's website at dupagefoundation.org/Donate.