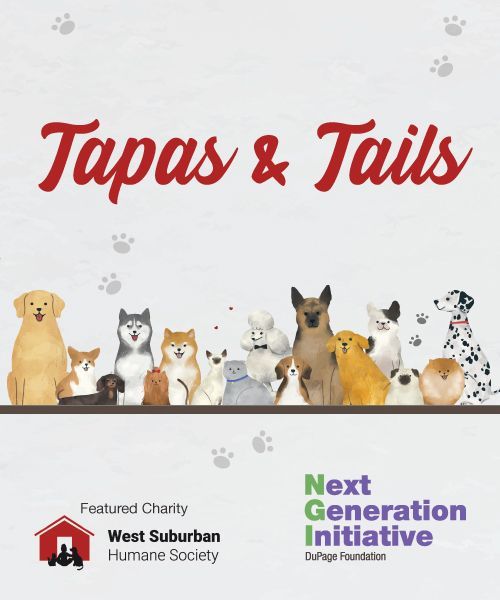 On April 21, DuPage Foundation's Next Generation Initiative (NGI) hosted NGI members, friends and guests at Mesón Sabika in Naperville for Tapas & Tails, a social event benefitting West Suburban Humane Society (WSHS). The event raised more than $4,000, which was granted to WSHS through the Next Generation Initiative Fund.
The Kuhn Family Fund of DuPage Foundation generously matched $2,000 in contributions for the WSHS grant. Mark Motuelle, a WSHS board member, made a short presentation about the organization and its mission to help homeless pets find safe, permanent and compatible homes.
"We were so grateful to be the featured not-for-profit organization at NGI's Tapas & Tails event," said Motuelle. "It was a gorgeous day and setting at Mesón Sabika, and a fun way to wind down a work week. On behalf of everyone at WSHS, thank you to the attendees, donors, and especially the Kuhn Family Fund for matching donations raised at this event. Your support of our life-saving work is noticed and appreciated."
NGI's summer social will be held at Pinstripes in Oak Brook on Thursday, June 16, benefitting Poised for Success.
About Next Generation Initiative (NGI)
More than 15 years ago, DuPage Foundation's Next Generation Initiative (NGI) began with a small group of individuals looking to inspire the next generation of philanthropic leaders to make an impact through their charitable giving. Today, NGI welcomes members from different backgrounds and age groups who share a common purpose: to connect, learn and give back as they make a difference in DuPage. NGI hosts a mix of activities for members each year, including social events, volunteer projects, and more. Since its inception, NGI has granted more than $115,000 to local not-for-profit organizations. For more information on joining NGI and sponsorship opportunities, please visit dupagefoundation.org/NGI.