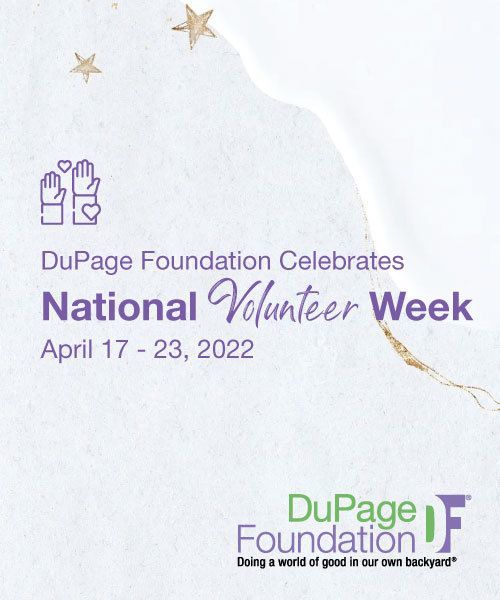 In celebration of National Volunteer Week, April 17 – 23, 2022, DuPage Foundation is proud to recognize the dedicated service of more than 150 volunteers who donate their time and talent to advance the work of the Foundation.
The theme for this year's National Volunteer Week is "Celebrate Service," which shines a light on the people and causes that inspire others to serve. Established in 1974, National Volunteer Week has grown into a larger movement, highlighting the importance of volunteerism and how every individual can create meaningful change.

Points of Light, the world's largest organization dedicated to volunteer service, advocates for National Volunteer Week as an opportunity to recognize and thank volunteers who lend their time, talent, voice and resources to meet the critical needs of their respective communities. During his 1989 inaugural address, President George H.W. Bush shared his vision of individuals and organizations across the nation helping others through service, and helped found the Points of Light Foundation in 1990.

"Whether it's serving on the Board of Trustees, joining an advisory committee, or helping out in our office or at events, all of our volunteers demonstrate a commitment to our mission," said DuPage Foundation President & CEO Dave McGowan. "We honor the impact they have made in our community and how it has inspired others to volunteer in their own unique way."

Hinsdale resident Julie Curran says her inspiration to volunteer comes through her personal connection to the community where she can make a positive difference. She has volunteered with DuPage Foundation since 2014, and joined its Arts DuPage Advisory Committee in 2018 and Endowment Building Committee in 2020. Curran previously served her community as president of Hinsdale Center for the Arts and the Hinsdale High School Football Club, and was a board member for Hinsdale Booster Club and Wellness House. She has also served as an Elmhurst University Trustee since 2009. Hear more about Curran's experience as a volunteer with the Foundation.

Get Involved: Volunteer at DuPage Foundation
Community members looking to volunteer at DuPage Foundation can inquire about serving on the Board of Trustees or joining a committee suited to their interests and individual field of expertise. From financial operations to marketing, there are currently 15 advisory committees that work with staff to advance the Foundation's vision of raising the quality of life throughout DuPage County. Office volunteers and interns are welcome throughout the year and help staff with day-to-day operations. To learn more about volunteer opportunities, call 630.665.5556 or email karen@dupagefoundation.org.