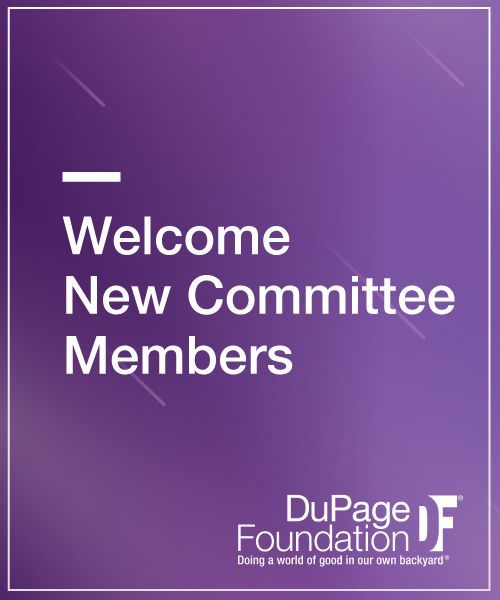 DuPage Foundation is pleased to welcome the following members to its advisory committees, approved at the March 17 Board of Trustees meeting:
Lisa Brose – Benefit Committee
Lisa Brose is an active volunteer with the Kane County Medical Reserve Corps, primarily assisting with COVID-19 vaccinations. Following her vocation to be a caregiver, whether as a pediatric intensive care nurse, a stay-at-home mom, a pastoral administrator for a Catholic parish, or a volunteer for various causes, Brose shares her time and talents to care for others. She currently lives in Aurora and holds a bachelor of science in nursing from the University of Pennsylvania.

Dr. Robert Dieter – Scholarship Committee
Dr. Robert Dieter, a Glen Ellyn resident, is an interventional cardiologist and practices cardiovascular and endovascular medicine at Loyola University Medical Center in Maywood and at Edward Hines Veterans Affairs Hospital. A professor of medicine at Loyola, he received his medical degree in 1996 with honors and completed a residency in internal medicine followed by three additional fellowships. Dr. Dieter recently received a master of liberal arts in extension studies from Harvard University. Active in his community, he has been a longtime volunteer for Grace Lutheran Church and was a member of the Glen Ellyn Historic Preservation Commission. Dr. Dieter has received several accolades from the medical community, has written several books and published over 100 articles.

Chris Janc – Grant Committee
Elmhurst resident Chris Janc has worked in wealth management and banking since 1995 and is a managing director and private client advisor with Bank of America Private Bank in Chicago. Prior to joining Bank of America, he spent more than four years at Abbot Downing as a managing director and relationship manager. Janc served as an executive director with J.P. Morgan Private Bank for more than seven years and, prior to that role, spent 14 years in commercial and investment banking with an emphasis on mergers, acquisitions, and leveraged finance. He earned his MBA from the University of Chicago's Booth School of Business and his bachelor's degree from Illinois State University. Janc is a Marine Corps veteran and served in Operations Desert Shield and Desert Storm. He served on DuPage Foundation's Board of Trustees and Audit Committee, and was chair of the Board Development Committee. Janc also served on the board of the DuPage Water Commission.

Ernie Mrozek – Strategic Planning Committee
Hinsdale resident Ernie Mrozek retired from The ServiceMaster Company in 2008 where he worked in a variety of senior-level roles including vice chairman, president, chief financial officer, and chief operating officer. During his professional career, he has served as a board member for several public and private corporate organizations including G&K Services, IDEX Corporation, Advanced Disposal Services, Inc., and Source Refrigeration & HVAC, Inc. Mrozek was on the board of the United States Chamber of Commerce and was chairman of St. Rita High School, where he continues to serve as a board member. A longtime volunteer for DuPage Foundation, he served on the Board of Trustees from 2009 – 2020 and was chair of the Strategic Planning Committee from 2017 – 2021. Mrozek earned a bachelor's degree in accounting from the University of Illinois at Urbana-Champaign.

Ted Saul – Endowment Committee
Ted Saul spent more than 40 years in corporate banking and retired in 2018 from Bank of America Merrill Lynch in Chicago. Dedicated to community service, he has volunteered for several organizations including The Salvation Army, the Village of Glen Ellyn, First Congregational Church of Glen Ellyn, Continental Illinois Foundation, and Bank of America Chicago. Saul earned a bachelor's degree in history from Bowdoin College and an MBA from the University of Virginia's Darden School of Business. He is a resident of Glen Ellyn and joined DuPage Foundation's Board of Trustees in 2019.