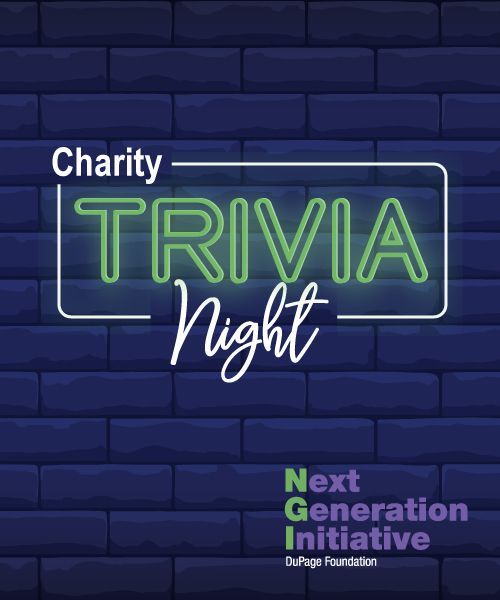 On February 3, more than 150 participants tuned in to the fifth annual Charity Trivia Night, hosted by DuPage Foundation's Next Generation Initiative (NGI). The event raised $6,000 for NGI's grantmaking and activities.
With more than 20 teams vying for the win, the team from Cooperative Association for Special Education (CASE) won the 2022 championship. The winning team members, known as the "HeadCASEs," were asked to name their favorite DuPage County charity to receive a $2,000 grant from the Next Generation Initiative Fund.
The HeadCASEs chose to support Glenbard Early Childhood Collaborative (GECC), a group of community-based partners who work with families and young children to develop and sustain an environment where all are safe, happy, healthy, and eager to learn. GECC is one of six early childhood collaboratives funded by DuPage Foundation's Bright & Early DuPage initiative.
"CASE is very proud of our team's representation at the NGI charity event," said GECC Coordinator Jeanine Woltman. "Our team members are all part of our CASE administrative office staff, representing all the parts of CASE that make it such a great organization. We were very excited and proud to play on behalf of the Glenbard Early Childhood Collaborative. We see firsthand the positive impact on babies, children, families, schools, and our community that the GECC has provided over the past four years. Knowing that a few hours of team fun could have such a big impact on GECC was a much-appreciated bonus to a great night. We look forward to seeing the efforts of GECC grow with the winnings from this event. CASE and GECC are truly grateful to DuPage Foundation, NGI, and the many donors who made this possible."
Thank you to the following sponsors for supporting NGI and Charity Trivia Night:
Event Partner
Kaskov Valuations, Inc.
Event Patron
Bellock & Coogan, Ltd.
Silver Annual Corporate Partner
Duly Health and Care
Bronze Annual Corporate Partner
BKD Foundation
About Next Generation Initiative (NGI)
More than 15 years ago, Next Generation Initiative (NGI) began with a small group of individuals looking to inspire the next generation of philanthropic leaders to make an impact through their charitable giving. Today, NGI welcomes members from different backgrounds and age groups who share a common purpose: to connect, learn and give back as they make a difference in DuPage. NGI hosts a mix of activities for members each year, including social events, volunteer projects, and more. Since its inception, NGI has granted more than $110,000 to local not-for-profit organizations. For more information on joining NGI and sponsorship opportunities, please visit dupagefoundation.org/NGI.