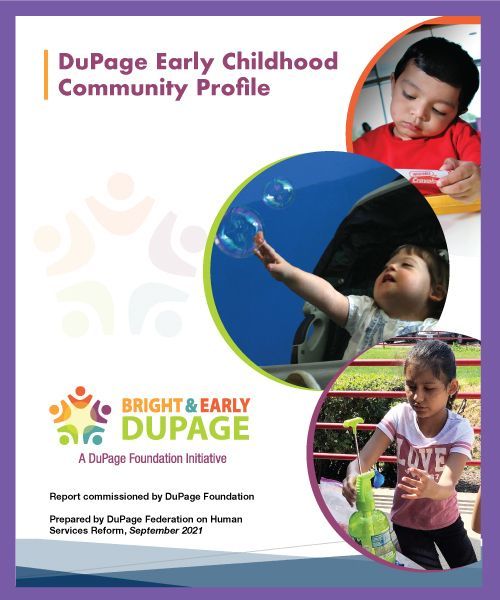 Bright & Early DuPage (B&ED), an initiative of DuPage Foundation, released a comprehensive assessment on the status of early childhood systems in DuPage County and what has changed since the previous comprehensive report was completed in 2016.

"The primary objective of this report was to see what progress has been made through the Foundation's Bright & Early DuPage initiative, and where the needs persist within the early childhood landscape," said Barb Szczepaniak, DuPage Foundation vice president for programs. "We wanted to get a clear picture on how the Foundation's investment in local collaboratives has helped early childhood systems succeed and where improvements need to be made."

Deborah du Vair, chair of the Foundation's B&ED Committee, said the report shows that, while the amount of preschool capacity has dramatically increased by nearly 50 percent, the pandemic has presented challenges.

"Early childhood screenings are down, similar to other health screening trends that we have observed during COVID," said du Vair. "What we learned from the report is the pandemic confirmed the need for local collaboratives and all the work that is being done through the Bright & Early DuPage initiative. We need to be creative to reach even more children and we can see that families' behaviors have changed. A lot of our families are looking for online resources, including the option of virtual screenings and a central hub of information on social media. We will be working with our local collaboratives to support their outreach efforts and continue to help families find the early childhood resources they need."

The report was prepared by DuPage Federation on Human Services Reform using quantitative and qualitative data from government and community entities, as well as research through five focus groups of 29 local children and their parents.

Launched in 2013, B&ED is a unique program designed to leverage area resources to ensure that all DuPage children from birth to age five receive the comprehensive support critical in preparing them for success in kindergarten and beyond. Since the initiative's inception, the Foundation has seeded and supported six early childhood collaborations and the countywide DuPage Early Childhood Collaborative (DECC) that serves as a hub for early childhood in DuPage.

"Our biggest strength among our work within the collaboratives has been building trust and connecting with the families as well as pulling all of the key players together – from the school districts, early childhood providers, and parents," said du Vair.
View the DuPage Early Childhood Community Profile at dupagefoundation.org/BrightAndEarly.