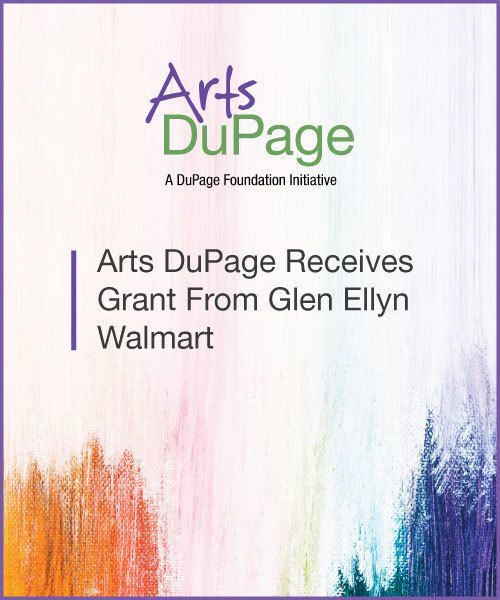 Arts DuPage, a DuPage Foundation initiative, received a grant from the Glen Ellyn Walmart (facility #1848) through Walmart's local community grants program which provides funding directly from Walmart and Sam's Club facilities to local organizations in the U.S.

"We are beyond grateful for this grant opportunity and to the folks at Walmart for their vision of giving back to local communities," said Debbie Venezia, director of Arts DuPage. "This funding enables us to continue our mission of supporting, promoting and advocating for the arts within DuPage County."

To be eligible for the program, organizations must operate on the local level (or be an affiliate/chapter of a larger organization that operates locally) and directly benefit the service area of the facility from which they are requesting funding.

Arts DuPage stimulates engagement and investment in DuPage County's vast cultural landscape and advocates for arts organizations and artists by providing a network to connect and share resources. Last year, Arts DuPage was instrumental in securing $300,000 in Federal Coronavirus Aid Relief and Economic Security (CARES) Act funds from DuPage County that DuPage Foundation regranted to 24 local arts organizations in December, 2020.

"When the pandemic started, we knew the arts would be among the hardest hit industries, devastated by the mandated shutdowns," said Venezia. "With additional support from generous donors, the grants we deployed through DuPage Foundation helped several arts organizations remain operational. Many of them found creative ways to offer programming and stay connected to their audiences throughout the pandemic."

Through artsdupage.org, its comprehensive website for all things art, Arts DuPage showcases the vibrant local arts community, which generates cultural, economic, and social benefits for DuPage County and its residents. In September, 2021, Arts DuPage launched its ChARTer membership program, built for DuPage County arts organizations, artists, and arts supporters. The program offers member-only benefits and helps Arts DuPage support, promote and advocate for the arts.

Support Arts DuPage
To support Arts DuPage as a member, sponsor or supporter of its ChARTer membership program, please visit dupagefoundation.org/artsmembership. Donations to the Arts DuPage initiative can be made through DuPage Foundation's website at dupagefoundation.org/donate.