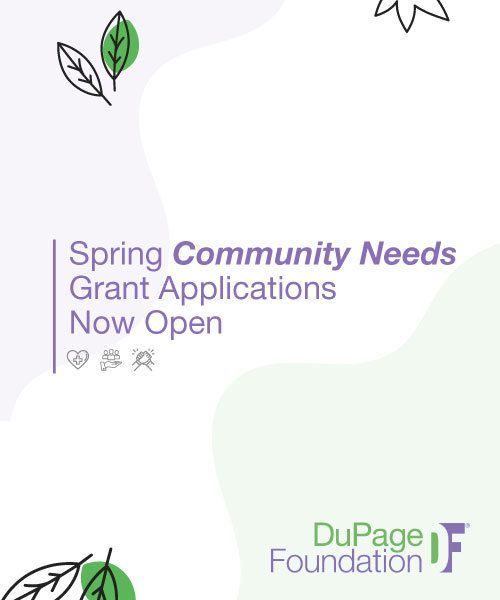 DuPage Foundation is now accepting applications for the spring, 2022, cycle of its Community Needs Grant Program (Community Needs), open to DuPage County not-for-profit organizations working in the field of health & human services that support programs aligned with current Impact DuPage health and human needs priorities: affordable housing, behavioral health and health status improvement. The Foundation's 2022 grant guidelines are posted at dupagefoundation.org/cngp and include application instructions and eligibility requirements. Applications are due by 5:00 p.m. on March 4, 2022.

DuPage Foundation's Community Needs Grant Program supports programs and projects that improve and enrich the quality of life for DuPage County residents. During two grant cycles each year, applications are accepted from local not-for-profits serving the DuPage County community in the following areas: health & human services; education; arts & culture; environment; and animal welfare. Health & human services grants are awarded each spring, and the other four categories are awarded in the fall.

To be eligible to apply, not-for-profit organizations must primarily serve DuPage County residents and be public charities classified as exempt from federal income taxes under section 501(c)(3) of the Internal Revenue Code. First-time applicants are encouraged to review the Foundation's grant guidelines and contact Barb Szczepaniak, vice president for programs, at 630.598.5280 or barb@dupagefoundation.org to confirm eligibility before applying. All applications are reviewed by the Foundation's volunteer Grant Committee comprised of DuPage County residents with deep knowledge of the not-for-profit community.

"Going into this spring cycle of Community Needs, we are expecting to see many grant requests that are directly related to the lingering effects of the COVID-19 pandemic," said Szczepaniak. "The pandemic amplified the growing needs of our community and some not-for-profits are still struggling to provide essential health services due to increased demand. We are immensely grateful to our donors who not only make this program possible, but have the desire to see more impact in their communities by partnering with the Foundation."

View a list of 2021 Community Needs grantees here.