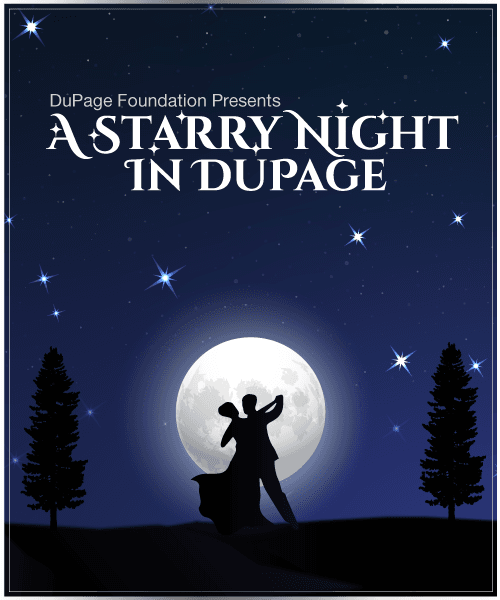 A virtual celebration of philanthropy was held on Saturday, November 13, as DuPage Foundation's Annual Benefit: A Starry Night in DuPage, welcomed an estimated 400 participants tuning in to the evening's program across DuPage County and beyond. With stellar support from generous donors, community partners and sponsors, the Benefit has grossed more than $515,000 to fuel Foundation operations and activities with additional gifts expected through year-end.

DuPage Foundation President & CEO Dave McGowan hosted the event with Foundation partner and celebrated community leader, Nicki Anderson.

"I am humbled by the unwavering generosity the Foundation has received in support of the Benefit," said McGowan. "From our Premier Sponsor, Northern Trust, to all of our sponsors and donors, we thank you for the pivotal role you play in advancing the work of the Foundation and helping us make a difference in our community. Thank you for believing in the power of your community foundation and the opportunity to see more impact through our mission."

Nearly $115,000 was raised during the Foundation's virtual paddle raise thanks to a $25,000 lead matching challenge gift from DuPage Medical Group (now known as Duly Health and Care) and $25,000 in matching gifts from Earl and Kay Harbaugh and Joe and Amy Weidenbach.

"DuPage Foundation's Annual Benefit is always the most exciting night of the year as it brings us together to celebrate our passion for community impact," said DuPage Foundation's Board Chair Nate Wasson. "Thank you to all who supported the Benefit and joined us in our vision to raise the quality of life throughout DuPage County."

The program opened with music from vocalist Angel Spiccia and her accompanying jazz combo, who set the mood for the evening with a beautiful rendition of the Frank Sinatra classic, "Fly Me To The Moon." Angel and her group closed out the show with another set of time-honored songs, featuring "Dream A Little Dream Of Me" and "Stardust."

Prior to the event, attendees were invited to enter a drawing to recommend their favorite DuPage County not-for-profit organization to receive one of two $2,500 grants from DuPage Foundation. The two organizations drawn at random during the program were DuPage Symphony Orchestra and Mayslake Village.

"We were so excited to have received this grant," said Mike Frigo, president & CEO of Mayslake Village. "It will be used to assist our low-income senior citizens in paying for their dental, vision and audiology needs, which they cannot afford, and which are not covered by Medicare."

Thank you to all of the generous sponsors who supported A Starry Night in DuPage: 

Premier Sponsor
Northern Trust

Matching Challenge Sponsors
Duly Health and Care, Lead Matching Challenge Sponsor
Earl & Kay Harbaugh
Joe & Amy Weidenbach

Moonlight Sponsors
The Driskill Foundation
Ernie & Diane Mrozek

Luminary Sponsors
Bill & Jen Blum
Spraying Systems Co.
U.S. Bank

Table Sponsors
BMO Harris Bank
Capstone Financial Advisors
Charlie & Kathy McKenna
The McMahon Family
Momkus, LLC and Betsy Goltermann & Ed Momkus
Joan Morrissey
Dianne & Ted Saul
Steve & Megan Shebik

Wishing Star Sponsors
Busey Bank
Christopher B. Burke Engineering, Ltd.
Comcast
Syntrinsic
WIPFLI

Specialty Sponsors
The Gierach Law Firm, LLC, Dessert Sponsor
Apparatus Cinema, Video Sponsor

Next year's Benefit will be held on Saturday, November 5, 2022.