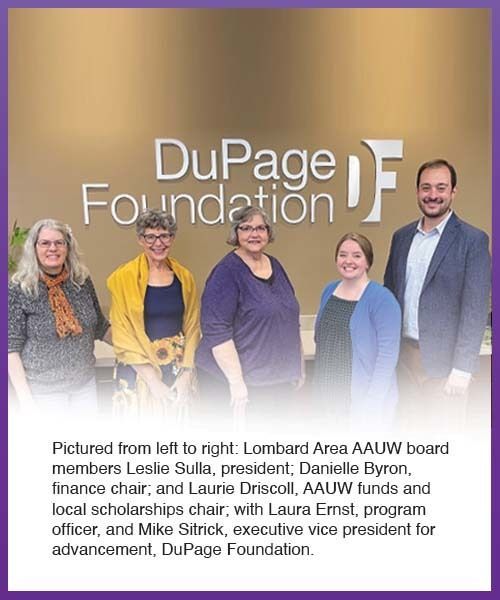 The Lombard Area Branch of Association of University Women (AAUW) is honoring two of its longtime members by endowing its annual scholarships with a new fund at DuPage Foundation to help local women advance their education. Established earlier this fall, the Lombard Area AAUW Dickson/Mosillo Scholarship Fund will deploy annual scholarships within two categories of eligibility.

Through a generous bequest, Anita N. Dickson, a longtime Lombard Area AAUW member and former chair of the Art Department at College of DuPage, left $280,000 to the branch to be used for a scholarship fund for women. Olga "Bebe" Mosillo, another longtime member of Lombard Area AAUW, was similarly committed to raising money for scholarships to support women's college education.

The Lombard Area AAUW Dickson/Mosillo Scholarship Fund will provide annual scholarship awards for female seniors graduating from Glenbard East and Willowbrook high schools who have been accepted to attend an accredited four-year college or university and plan to major in a science, technology, engineering, or math (STEM) field. Selection committees from each of the high schools will review applications and recommend recipients to the Foundation's Board of Trustees for selection.

A separate "Return to Learning" scholarship award will be given to women who are either presently enrolled in an accredited two- or four-year college, university or technical school, or who are planning to return to school after an interruption in their education to complete an undergraduate or master's degree, or a certification program at an accredited institution. To be eligible, applicants must reside in one of the following cities: Addison, Glen Ellyn, Glendale Heights, Lombard, Oakbrook Terrace, Villa Park, or Wheaton. An independent committee at DuPage Foundation will review applications for the "Return to Learning" scholarship and recommend recipients to the Foundation's Board of Trustees for selection.

Leslie Sulla, president of the Lombard Area AAUW, said that, due to the amount of money involved, the branch needed a trusted partner to help steward the fund and manage the scholarship process. Previous scholarship funds were curated through used book sales and other donations, raising thousands of dollars to advance women's education.

"Partnering with DuPage Foundation has been a wonderful experience," said Sulla. "We found working with Mike Sitrick, Foundation executive vice president for advancement, and Laura Ernst, Foundation program officer, to be straightforward; everyone was extremely responsive to our needs. They've been very helpful in making this happen for our Branch. Lombard AAUW members are excited to honor our late members' wishes through this new scholarship fund. Because of this partnership, Anita's and Bebe's legacies and their ardent support for women's education will continue for decades."

The inaugural recipients of both scholarships will be awarded in the spring of 2022. Additional contributions from individuals, corporations and organizations may be made to the Lombard Area AAUW Dickson/Mosillo Scholarship Fund through DuPage Foundation by sending a check to DuPage Foundation, 3000 Woodcreek Dr., Ste. 310, Downers Grove, IL 60515, or donating online at https://dupagefoundation.org/donate.html.

For questions regarding the Lombard Area AAUW Dickson/Mosillo Scholarship Fund, please contact Laura Ernst, program officer, DuPage Foundation, at laura@dupagefoundation.org or 630.598.5295.

About Lombard Area AAUW
The Lombard Area Branch of AAUW has served the communities of Lombard, Villa Park, and surrounding areas since 1959. Since 1888, AAUW has been one of the largest funders of women's graduate education. AAUW advances gender equity for women and girls through research, education, and advocacy.
About DuPage Foundation
DuPage Foundation, a 501(c)(3) community foundation, is the philanthropic leader in DuPage County, Illinois. DuPage Foundation manages more than $125 million in assets and has awarded more than $60 million in grants to not-for-profit organizations serving the residents of DuPage County and beyond since its founding in 1986. Individuals and organizations seeking to provide impactful support to address critical issues in DuPage County and beyond can create powerful customizable gift solutions and partnerships through DuPage Foundation. More at dupagefoundation.org. Doing a world of good in our own backyard.®