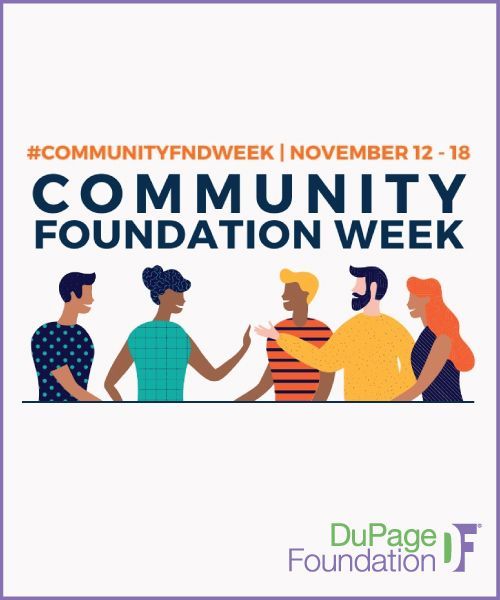 Joining in celebration with community foundations across the country, DuPage Foundation is proud to observe Community Foundation Week, November 12 – 18, which coincides with National Philanthropy Day® (NPD) on November 15.

Created in 1989 by President George H.W. Bush, Community Foundation Week recognizes the work of community foundations throughout America and their collaborative approach to working with the public, private, and not-for-profit sectors to address community issues. Currently, more than 750 community foundations operate in urban and rural areas in every state.

During Community Foundation Week, DuPage Foundation will celebrate its 2021 Annual Benefit: A Starry Night in DuPage on November 13. As DuPage Foundation's premier event, the annual Benefit raises critical support needed for the Foundation to continue raising the quality of life throughout DuPage County.
Observed on November 15, NPD was first signed as a proclamation by President Ronald Reagan in 1986, the same year DuPage Foundation was founded.

In September, DuPage Foundation celebrated its 35th anniversary and surpassed $60 million in cumulative grants and $125 million in assets. Through the Community Needs Grant Program, special initiatives, donor-advised grants and designated grants, the Foundation granted nearly $9 million during the past fiscal year to not-for-profit organizations in all areas of service.

"This past year we celebrated many milestones with our donors, volunteers, community partners and supporters," said Dave McGowan, DuPage Foundation president & CEO. "Community Foundation Week is another reason to celebrate everyone who makes DuPage Foundation the philanthropic leader in DuPage County. The ongoing generosity from our donors and community partners ensures your community foundation is strong and viable for generations to come. Everyone can participate in philanthropy – whether it's volunteering your time, donating to the causes you love or joining an advisory committee or board – you can truly make a difference in your community."

As DuPage County's philanthropic leader, the Foundation is in a unique position to champion every facet of the charitable giving process. To learn more about ways you can see more impact through your own charitable giving, please visit dupagefoundation.org/whowehelp.