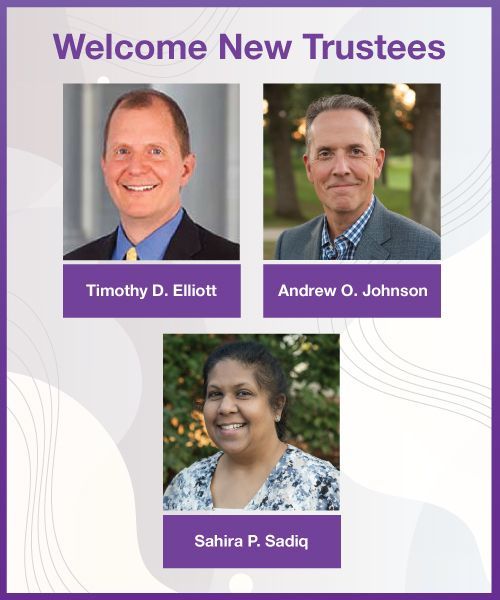 DuPage Foundation is pleased to welcome Timothy D. Elliott, Andrew O. Johnson and Sahira P. Sadiq to its Board of Trustees, who were elected during the September 16 Board meeting.

"The support, guidance and knowledge that all of our Trustees bring to the Board is truly unmatched," said Dave McGowan, DuPage Foundation president & CEO. "We are fortunate to have a vibrant group of individuals who wish to dedicate their talents to the Foundation and our community. As we approach the third year of our strategic plan, we will be utilizing their varying expertise to help guide the Foundation toward accomplishing our goals." 

More about the new Trustees:
Timothy D. Elliott
Timothy D. Elliott is an attorney at Rathje Woodward and maintains a national trial and appellate practice. Consistently ranked by his peers as a top litigator in Illinois, he is regularly named an Illinois Super Lawyer and was selected as one of Illinois' top 40 lawyers under 40 by the Chicago Daily Law Bulletin in 2011. Elliott actively participates in pro bono and community-based work. He recently served as a DuPage County Board member from 2016 – 2020, and previously served on the board of Metropolitan Family Services DuPage and as the president of the DuPage Historical Museum Foundation. A resident of Glen Ellyn, Elliott is a former Glen Ellyn Village Trustee and served as a member of the DuPage Water Commission. He graduated magna cum laude from Miami University and received his law degree from Harvard Law School.

Andrew O. Johnson
Andrew O. Johnson is the chief risk officer and principal at Captive Resources, and has been with the company for more than 29 years. He works with businesses to control insurance costs through the creation and oversight of member-owned group captive insurance companies. Johnson is a life-long Warrenville resident and previously served the Foundation as a member of the Grant and Bright & Early DuPage Committees. He earned a bachelor's degree in industrial technology from Northern Illinois University and served 16 years on the Community Unit School District 200 Board of Education, 10 of those years as board president. He has recently completed a two year term as chairman of the board of the National Safety Council.

Sahira P. Sadiq
Sahira P. Sadiq is the director of program management for the Muslim Leadership Academy, an Islamic Foundation youth enrichment program offered on Sundays for students in preschool through 10th grade. She helps develop programming for children and teenagers to learn to embrace their faith by providing them with high quality Islamic Studies and Qur'anic Studies education. A resident of Oak Brook, Sahira has been actively involved in many not-for-profit organizations in DuPage County and the greater Chicagoland area. Sahira is a current board member of the Council of Islamic Organizations of Greater Chicago and former trustee of the Islamic Foundation, where she also served as the weekend school chairperson.

Click here to view photos from the Annual Meeting reception.