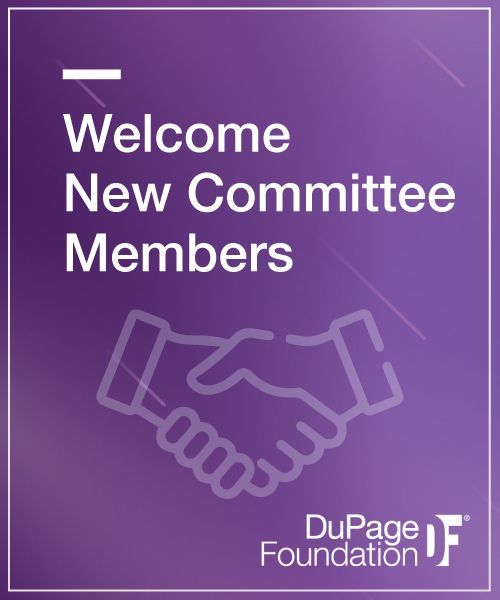 DuPage Foundation is pleased to welcome seven new committee members, approved at the September 16 Board of Trustees meeting.

"Volunteering at the Foundation is a rewarding experience and we are grateful to have opportunities for community members to help us through their own fields of expertise," said Dave McGowan, DuPage Foundation president & CEO. "These individuals join nearly 150 other generous volunteers who are helping advance the Foundation's vision of raising the quality of life throughout DuPage County."

More on the new committee members:

Conor Gee – Marketing Committee
Conor Gee is the director of marketing at the Blue Cross Blue Shield Association and is responsible for leading the strategy, development and execution of marketing programs to support Blue Cross and Blue Shield Plans in positioning national programs and initiatives. Gee is an active philanthropist, serving as a consultant and board member to several not-for-profit organizations including Associate Board for Navy Pier, Rotary International through the Rotary Club of Chicago and the District Governor Nominee for Rotary in the Chicagoland area, and Misericordia's Young Professional Council. He was highlighted in the book Manager 3.0: A Millennial's Guide to Rewriting the Rules of Management discussing his experiences as a millennial manager and has been recognized by SociaLife Chicago as a Next Generation Philanthropist for Chicago. Gee received a bachelor's degree in Integrated Communications from Spring Hill College, a MBA from Dominican University, a certificate in Nonprofit Governance from North Park University, and recently completed the Business Society and Impact Program at Loyola University. He resides in Elmhurst with his wife and two children.

Kendra Hyett – Grant Committee
Kendra Hyett has 10 years of not-for-profit experience in grantmaking, grant writing, fundraising and board service focused on women and girls' empowerment and access to education. Hyett currently serves on the leadership council for Rise Up, a San Francisco not-for-profit that trains youth internationally to become leaders in their communities, and on the Chicago Foundation for Women's Western Suburbs Giving Circle. She received a bachelor's degree in English with a minor in Gender and Women's Studies from North Central College. Hyett and her husband, PJ, live in West Chicago with their two children and are donor-advisors at DuPage Foundation.

Joan Vilim – Investment Committee
Oak Brook resident Joan Vilim is an associate professor at Elmhurst University teaching undergraduate courses in finance and coordinates the university's Financial Literacy Program and Business Mentoring. Since 2000, Vilim has served the university in various roles, including as a faculty representative for several committees: Investment, Business, and Student Government Association and Student Life. She is the donor-advisor of the Vilim Family Impact Fund at Chicago Community Trust and serves on many local boards and committees. In 2008, Vilim and her husband, Peter, founded the Cuore e Mani (hearts and hands) Foundation dedicated to addressing housing, homelessness and basic human needs in the Chicago area. She received a bachelor's degree in Business Administration from the University of Notre Dame in Finance and Economics and her MBA from Kellogg School of Management at Northwestern University. Vilim earned her CFA charter in 2004.

Mary Pat Wesche – Audit Committee
Wheaton resident Mary Pat Wesche is one of the owners of Forum Financial Management, LP and helps clients create and preserve wealth by making sure their tax, insurance and estate planning needs are met. Wesche was named one of 2008's Influential Women in Business by the Daily Herald Business Ledger in partnership with the National Association of Women Business Owners Chicago Area Chapter. She is a member of the American Institute of Certified Public Accountants, Illinois CPA Society and the Financial Planning Association. Wesche has volunteered with DuPagePads for more than 15 years and previously served as president of the board of directors. In 2016, she received the DuPagePads Spirit Award for her volunteer work. Wesche is a certified financial planner and received a bachelor's degree in accounting from St. Joseph's College and her MBA from Kellogg School of Management at Northwestern University.