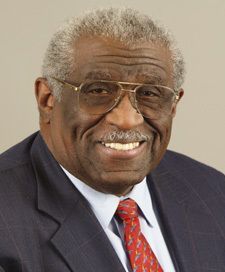 DuPage Foundation's staff and Board of Trustees were deeply saddened to learn Trustee Emeritus Charlie Thurston passed away on August 25, 2021. A resident of Winfield, Charlie was 82 years old.

DuPage Foundation President & CEO Dave McGowan said, "Charlie was an asset to the Foundation since day one and was monumental in helping us reach so many significant milestones over the years. He had an ardent mind for big ideas and advocated for new ways to grow the Foundation and increase our impact within the community. Charlie was always complimentary of the Foundation's staff and enjoyed attending our events. He played a pivotal role in shaping our Foundation's history and he will be greatly missed by all."

Charlie was instrumental in marketing the mission of the Foundation upon its inception in 1986 and served on the founding Advisory Committee. At the time, he was vice president of the Eastern Division at Northern Illinois Gas and was later featured in a 1989 public awareness video about the Foundation.

Charlie served as vice chair of the Advisory Committee in 1988 – 1991 before becoming chair in 1991 and serving a two-year term. He also served as Treasurer and chaired several committees even after retiring from the Board in 2004. In his final leadership role at the Foundation, Charlie served on the Financial Operations Committee until 2010.

An advocate for charitable giving, Charlie was a member of DuPage Foundation's Legacy Society and committed a percentage of his estate to the Foundation.

McGowan added, "We are immensely grateful to Charlie for gifting us with his wisdom and wit, and with this gift from his estate, his legacy will live on through the Foundation's mission in perpetuity."

View Charlie's obituary.

Memorial Service Details
Sunday, September 19
Cantigny Park - Le Jardin Room
1S151 Winfield Road
Wheaton, IL 60189

Reception: 10:00 - 10:30 a.m.
Memorial service: 10:30 a.m.
Lunch and Fellowship: 11:30 a.m. - 2:00 p.m.