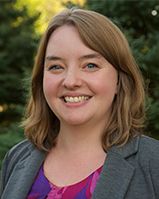 DuPage Foundation is pleased to announce the promotion of Laura R. Ernst to program officer, effective immediately.
Laura joined the Foundation in July, 2016, as a program associate to assist with the administration of grant programs. In her new role, she manages multiple grant programs and oversees specific aspects of the grantmaking process between applicants and the Foundation. Laura is responsible for program research, grantee proposal evaluation, grant activity tracking and post-grant evaluation. She also facilitates the selection and award process for the Foundation's scholarship funds by working with local high school guidance departments.
Barb Szczepaniak, DuPage Foundation's vice president for programs, said, "Laura's experience in community outreach and fundraising made her a valuable addition to the Foundation, and she has proven to be an exceptional asset to the program department and beyond. She is highly dedicated to the grantmaking process and serves as a point-of-contact for grantees and donors. Her attention to detail and commitment to providing the highest quality of service to the Foundation's constituents is unmatched."
Laura will continue to provide administrative support for several of the Foundation's initiatives and grant programs, including Community Needs, Bright & Early DuPage, Arts DuPage, and donor-advised funds.
Laura holds a bachelor's degree in environmental studies with minors in economics and business and management from Knox College. Prior to joining the Foundation staff, she dedicated a year to national service as an AmeriCorps VISTA at Northern Illinois Food Bank.