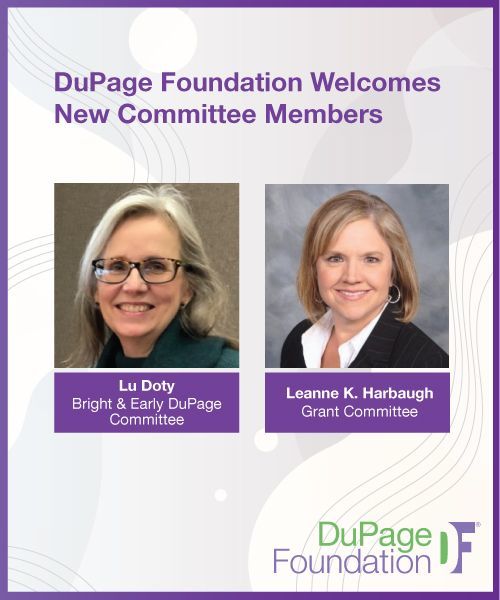 DuPage Foundation is pleased to welcome two new committee members, approved at the July 15 Board of Trustees meeting. Lu Doty joins the Bright & Early DuPage Committee and Leanne K. Harbaugh joins the Grant Committee. These individuals join nearly 150 other generous volunteers who are helping advance the Foundation's vision of raising the quality of life throughout DuPage County.

"Much of our success at the Foundation is due to the expertise of our volunteers and the skills they bring to the table," said Dave McGowan, Foundation president & CEO. "Their unwavering commitment to philanthropy and to the Foundation is evident in the quality of service and care they provide when working with us on various projects. All of our volunteers add something special to the Foundation, and we are so fortunate to have people interested in making an impact within our community and beyond." 

More about the new committee members:
Lu Doty – Bright & Early DuPage Committee
Doty has dedicated her entire career to education and held various teaching roles in special education, early childhood special education, elementary education, and high school completion. Before retiring in 2021, she spent 32 years as a professor in special education and early childhood special education at Elmhurst University (EU). Doty created and directed the Elmhurst Learning and Success Academy (ELSA) for young adults with disabilities, a four-year post-secondary certificate program with the students integrated on campus. She also worked as a family advocate and resource consultant for children and adults with disabilities in several states. Though she is retired, Doty will be teaching a course at EU on individuals with differing abilities and mentoring an honors student's project on the inclusiveness of students on college campuses.

Leanne K. Harbaugh – Grant Committee
Harbaugh currently serves as the human resources manager for Ditch Witch Midwest and Illini Power Products, both long-standing family businesses, located in West Chicago and Carol Stream, respectively. Before returning to the family businesses, she spent 13 years in the not-for-profit sector which included six years in Indonesia as a consultant for grassroots economic and community development programs, and seven years as CFO for a local ministry. Harbaugh grew up in the Chicagoland area, living in Glen Ellyn and St. Charles, and is blessed to be part of a family that always valued philanthropy and giving back to the community.