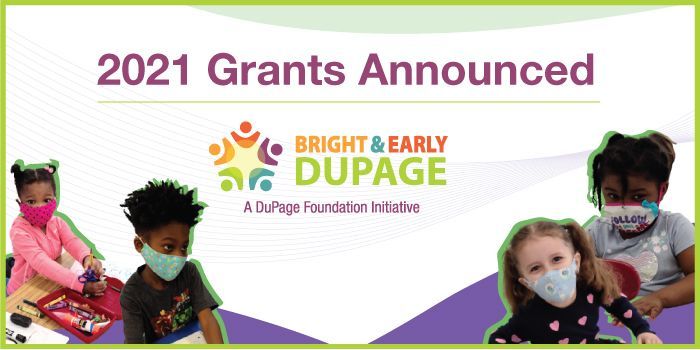 DuPage Foundation's Bright & Early initiative focuses on ensuring children from birth to age five in DuPage County receive the comprehensive support critical in preparing them for success in kindergarten and beyond. Each year, the initiative provides grant funds for local community organizations to leverage resources and create formal community early childhood Collaboratives. By working together toward a common goal, these Collaboratives are more successful at delivering the necessary early childhood care and education within their communities.
With the onset of COVID-19 in 2020, many of the early childhood Collaboratives that are supported through the initiative were either completely shut down or had to move to virtual programming and subsequently lost funding.
Barb Szczepaniak, the Foundation's vice president for programs, said, "The financial hit to these programs over the last year was devastating. Supporting and educating families, particularly in underserved communities, is the mission of the Bright & Early initiative. Because of the trusting relationships that were developed prior to the pandemic, these Collaboratives were very effective in helping parents navigate the very complex issues of unemployment, food insecurity and remote education systems."

The following Collaboratives have been awarded grants based on their most pressing needs, ranging from operational support to mental health case management:
 
Learn more about Bright & Early DuPage.