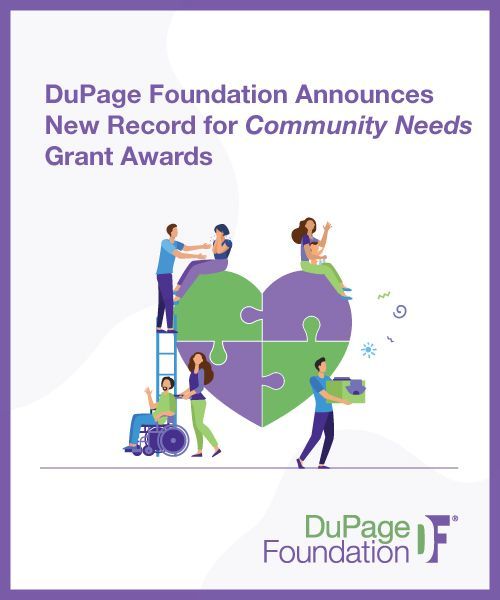 With health and human services needs in DuPage County at an all-time high, DuPage Foundation is pleased to announce it has awarded a record $702,860 in grants to 37 area not-for-profit organizations through its signature Community Needs Grant Program (Community Needs or CNGP). The program awards grants each spring to not-for-profit 501(c)(3) charities in the County that apply and are working in the area of health and human services.

Not only is the amount awarded a record, but the amount contributed to the program budget by individual donors through their DuPage Foundation relationships is also a record. Donors invested an additional $307,388, increasing the Community Needs grant budget by 77 percent, said DuPage Foundation Vice President for Programs Barb Szczepaniak. "The amount contributed by donors and donor-advisors through their DuPage Foundation funds was more than double the amount given in 2020. It allowed the Grant Committee to fund 76 percent of the applications received, compared to 66 percent in the past, and this is on top of increasing the maximum grant award allocation to $25,000, a $5,000 increase over past limits. We are so grateful and humbled by the community's generosity and our donors' concern for those in our community with the fewest resources," she said.

Donor Earl Harbaugh, a long-time supporter of DuPage Foundation and one of the contributors who supported this grant cycle with additional funding, said, "With so much need in the community right now, those with more resources can really make a difference through DuPage Foundation. Doing so through this grant cycle and even outside the grant cycle is impactful as well."

Martha J. Johnson was a first-time contributor to this grant cycle having recently set up her own donor-advised fund with the Foundation. She said, "I found an amazingly easy opportunity working with DuPage Foundation to help local not-for-profits make a positive impact in the lives of so many vulnerable neighbors. The Foundation identifies specific critical needs in the community and I feel confident in their advice and blessed to be able to support organizations most meaningful to me personally."

Businesses also supported the grant cycle. Lisle-based Molex, Inc. Chief Executive Officer Joe Nelligan said, "We are thrilled to partner with DuPage Foundation in support of their mission to help those in need in our community. Through the Community Needs Grant Program, we'll be able to provide critical services and resources to make a difference and improve people's lives."

Szczepaniak explained, "The overall budget for the grant program comes from income generated by unrestricted and field-of-interest endowments that donors have established with the Foundation over the past 35 years including the DuPage Forever Fund. That, coupled with the additional contributions from the Foundation's donor-advisors, makes a bigger impact on the great need in our community for everything from housing and shelter to mental health services and more."

Indeed, Geri Kerger, executive director of NAMI DuPage, a grantee that delivers mental health services to DuPage County residents said, "Mental health needs have skyrocketed as a result of the pandemic, and there is no vaccine to prevent or reduce the impact of mental illness. Although cases of coronavirus are diminishing with time—anxiety, depression, and PTSD brought on by the virus may continue for weeks, months, even years for some people. We are so thankful for DuPage Foundation's support of our Peer Counseling program, which is even more important now. Medical experts have found peers provide a unique role in breaking isolation and modeling recovery, particularly for those experiencing anxiety and depression related to the pandemic. Peer counseling is a win, win, win: It is great for the counselor, the client and the community at large." 
A volunteer Grant Committee comprised of DuPage County residents with deep knowledge of the not-for-profit community is charged with decision-making regarding grant recipients and amounts. Volunteer Megan Shebik, chair of the Committee, said, "Each member of the Committee spends the time necessary to read, analyze and discuss the grant applications. The quality of the applications demonstrates the great need in our community. We're pleased to see those with the greatest opportunity to impact lives get the funds they need. I'm appreciative of the Committee for all their dedication and hard work; they truly make a difference right where we live."