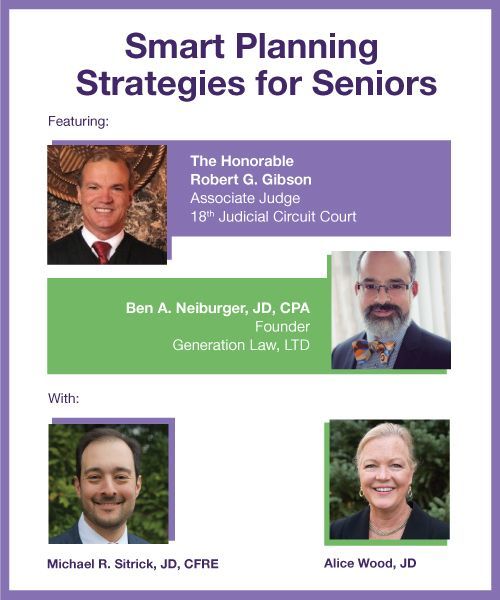 On April 29, DuPage Foundation hosted an informative webinar for seniors, their loved ones and professional advisors on effective estate and charitable planning strategies. In case you missed it, Smart Planning Strategies for Seniors can be viewed on DuPage Foundation's YouTube Channel.
The webinar featured a panel of local experts and was moderated by Alice Wood, JD, DuPage Foundation director of gift planning.
The Honorable Robert J. Gibson of DuPage County's 18th Judicial Circuit Court spoke of the many issues people can face as they age and stressed the importance of proper estate planning and communication with loved ones and trusted advisors to avoid preventable problems. He also spoke of the potential danger of seniors being financially exploited and noted isolation as being a leading factor in their susceptibility to this risk. The key takeaways from Judge Gibson's presentation were to have an estate plan; let a trusted person know where your documents are stored; and avoid becoming isolated.
Next, Ben Neiburger, JD, CPA, founder of Generation Law, gave an overview of estate planning strategies. Ben delivered an entertaining and informative presentation that included fun props, humor and a light touch on a serious topic to inform and inspire participants on ways to effectively plan and protect themselves, their loved ones and clients. For his key takeaway, Ben stressed the importance of working with a qualified attorney to ensure clients' estate planning goals are covered; that assets are titled correctly; and that the right beneficiary designations are in place. 
Following Ben's remarks, Mike Sitrick, JD, CFRE, DuPage Foundation vice president for advancement, shared an overview of the myriad options available for creating a charitable legacy along with strategies people can use to make a difference now. Mike covered an incredible amount of information in a short amount of time and noted that drafting or updating an estate plan is the perfect opportunity to establish a charitable legacy in support of one's favorite causes—locally and beyond.
One easy way to establish a charitable legacy is to name DuPage Foundation as a beneficiary to receive any portion of one's estate, life insurance proceeds or retirement assets. By working through the Foundation to support one's favorite causes and organizations, people can retain the flexibility to change their charitable beneficiaries later without necessarily having to revise their estate documents and beneficiary forms.
Those who conduct their charitable legacy planning through DuPage Foundation become members of the DuPage Foundation Legacy Society. If you have named DuPage Foundation in your planning, please let us know so we are aware of your generous commitment and can properly thank you.
For more information, contact:
Mike Sitrick at 630.598.5285
Alice Wood at 630.598.5288
Ben Neiburger at 630.782.1766