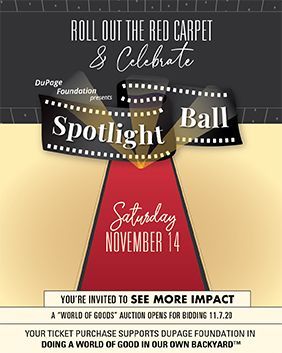 Nearly 200 households representing some of DuPage County's most dedicated philanthropists, business executives, civic leaders and community-minded residents came together the evening of Saturday, November 14, for a virtual celebration in support of DuPage Foundation, the community's catalyst for coordinated impact. Held virtually via YouTube from NCTV17 studios in Naperville, the DuPage Foundation Spotlight Ball was a night to remember, grossing more than $440,000 to date for Foundation operations aimed at raising the quality of life throughout DuPage County, with additional gifts expected through the end of December.
Attendees enjoyed a brief virtual program, a DuPage Delights treat box delivered to their homes containing items purchased from DuPage local businesses, and an online silent auction and paddle raise.
The virtual program, co-hosted by emcee Greg Dellinger and Foundation President & CEO Dave McGowan, featured stories from many of the Foundation's local not-for-profit grantees.
Kara Murphy, president of DuPage Health Coalition, talked about how her organization has benefited from DuPage Foundation support and offered colorful commentary and insights on highlighted videos featuring the work of Bridge Communities, HCS Family Services and The Gardenworks Project. Dr. Supriya Jasuja, an infectious disease specialist, also offered thoughts on being a donor and volunteer for DuPage Foundation and commentary on a video featuring former DuPage Foundation Trustee and donor-advisor Dick Kuhn, a partner with Kuhn, Heap & Monson, a DuPage County law firm that refers clients to DuPage Foundation for charitable giving.
The program also featured music from the Academy-award winning composer John Williams, performed in October by the New Philharmonic Orchestra during a virtual concert at the McAninch Arts Center (The Mac) in Glen Ellyn. The concert footage and audio was donated by Diana Martinez, a DuPage Foundation Trustee and director of The Mac.
More than $90,000 was generated through the paddle raise, thanks in part to a generous $25,000 matching challenge from two area families: Earl and Kay Harbaugh and Joe and Amy Weidenbach.
The DuPage Foundation Spotlight Ball marked Northern Trust's ninth year as the event's leading sponsor, this year noted as the "Red Carpet Sponsor." Success would not have been possible without Northern Trust and the support of the Foundation's many event sponsors.
"Northern Trust values the work and impact DuPage Foundation delivers," said Greg Jordan, Northern Trust's senior vice president and senior managing director. "Without DuPage Foundation's efforts in DuPage County, especially this year, things would be much more bleak. The Foundation was able to spring into action when COVID-19 hit and it nimbly funneled much needed funds to where they could be used to alleviate suffering the most. By supporting DuPage Foundation, we are supporting the people of DuPage County."
For highlights of the evening's festivities, follow the hashtag #DFSpotlight on Facebook, Twitter and LinkedIn where many guests and staff posted before, during and after the event.
View dupagefoundation.org/Gala2020 to view sponsors and the brief program featuring DuPage Foundation's latest "See More Impact" videos, a series of short vignettes highlighting the Foundation's impact throughout the county for donors, not-for-profits and area residents.