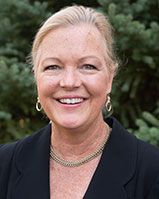 DuPage Foundation welcomed Alice Wood as director of gift planning, effective August 10, 2020. Wood brings a wealth of experience to the Foundation. She is an estate planning attorney, entrepreneur, author and financial literacy instructor. Most recently Wood ran her own law practice and served as director of business development/estate planning with Ameriprise–NorthStar Wealth Group in Woodridge, IL. Wood has advised more than 1,000 individuals and families over the years in estate and administrative matters as well as charitable giving.

Wood said, "My grandfather, the Honorable Win G. Knoch, served as a Judge in DuPage County from 1930 until 1953 and was appointed to the United States Court of Appeals by President Eisenhower in 1958. He frequently spoke of his love of DuPage County and called it 'the garden spot of America and the paradise of the universe.' He would be so proud to know that I'm following in his footsteps with his love of DuPage County. I am so honored to have the opportunity to promote the work of so many impactful charities through my new role with DuPage Foundation."

Wood is credited with launching America's largest financial literacy initiative for the workplace along with VISA and McDonald's USA and served as an advocate for the financial literacy movement by working with the United States Treasury Department to develop the National Strategy for Financial Literacy. She also worked with the Consumer Financial Protection Bureau to help shape national policy with respect to financial education.

In addition, Wood is a volunteer force throughout the community with multi-generational ties to DuPage County and Naperville, Illinois. Having served in a volunteer capacity as vice chair of DuPage Foundation's Professional Advisors Committee, Wood has referred many clients to DuPage Foundation to help them accomplish their charitable goals and support the community. 
Wood's volunteer work also includes serving as a board member of The Sunrise Rotary Club of Naperville and NCTV-17 in Naperville. She is an incoming member of Naperville's Loaves & Fishes' Community Advisory Council. 

Wood will report to DuPage Foundation VP for Advancement Mike Sitrick, JD, CFRE. "Alice is a perfect fit for the Foundation," said Sitrick. "She is a proven leader and 'doer' with a deep passion for her community and serving others, professionally, and through her exemplary volunteer work.  These traits have been a constant from Alice during the past few years as I have worked with her through her service on two Foundation committees. It is a pleasure to now welcome Alice as a full time member of the staff team. Our donors couldn't have a more knowledgeable and conscientious partner to assist them in achieving their charitable goals."