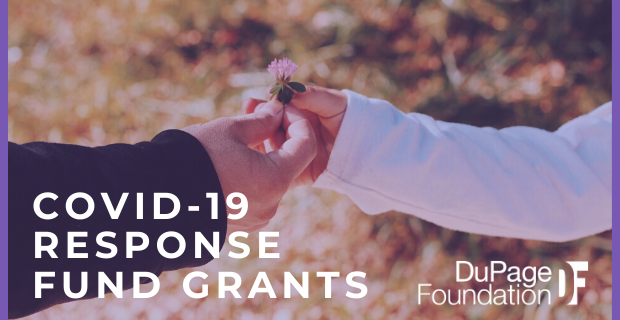 DuPage Foundation is pleased to announce a total of $1 million in grants from its emergency COVID-19 Response Fund has been delivered to not-for-profit service providers in the DuPage County region to date. The third round of grants, totaling $500,000, was delivered this week, to support 43 DuPage County not-for-profits that provide food and emergency assistance, technology to support virtual health and education, access to healthcare, housing, and mental health services to support the community.
"This grant means some of the most in-need people who are DuPage residents are going to receive help. Some people called us back crying with happy tears after receiving the great news. I am sure you do know how much this help means to them," said Alexandra Sossa, executive director, Farmworker and Landscaper Advocacy Project
"Reaching this $1 million milestone has been a true testament to the power of the DuPage philanthropic community and how much they care about the County's residents and its not-for-profit service providers," said Dave McGowan, Foundation President & CEO, "The needs have been extraordinary but our community has stepped up in an extraordinary manner. However, there is more to do. DuPage Foundation is uniquely positioned to meet community needs."
The COVID-19 Response Fund will continue to meet community needs as they arise and donations can still be made to this fund to address those needs.
DuPage Foundation COVID-19 Response Fund Grant Recipients, Round 3
Food and Emergency Financial Assistance: $324,000
DuPage Senior Citizens Council: $25,000
Educare of West DuPage: $20,000
Elmhurst Walk-In Assistance Network: $5,000
Family Focus: $10,000
Farmworker and Landscaper Advocacy Project: $5,000
Glen Ellyn Food Pantry: $20,000
H.O.M.E. DuPage, Inc.: $20,000
HCS Family Services: $5,000
Hope's Front Door: $10,000
Humanitarian Service Project: $7,000
Immigrant Solidarity DuPage: $5,000
Indian Prairie Educational Foundation: $4,500
Loaves & Fishes Community Services: $15,000
LOVE Christian Clearinghouse: $2,500
Metropolitan Family Services DuPage: $15,000
Naperville Education Foundation: $5,000
People's Resource Center: $15,000
Serenity House Counseling Services, Inc: $20,000
Student Excellence Foundation: $5,000
Teen Parent Connection: $10,000
The Salvation Army: $20,000
Tri-Town YMCA: $15,000
United Community Concerns Association: $5,000
West Suburban Community Pantry: $15,000
World Relief DuPage: $15,000
Xilin Association: $10,000
YWCA Metropolitan Chicago: $20,000
Technology to Support Virtual Health and Education: $59,000
Alive Center: $5,000
B.R. Ryall YMCA: $20,000
Glen Ellyn Children's Resource Center: $5,000
Northeast DuPage Special Recreation Association: $14,000
Spectrios Institute for Low Vision: $10,000
Youth Outlook: $5,000
Access to Healthcare: $56,000
Access Community Health Network: $10,000
Almost Home Kids: $5,000
DuPage Health Coalition: $20,000
DuPage Health Matters: $1,000
VNA Health Care: $20,000
Housing: $41,000
360 Youth Services: $15,000
Bridge Communities, Inc: $15,000
ChildServ: $6,000
Senior Home Sharing: $5,000
Mental Health: $20,000
Previously, 36 grants totaling $500,000 were awarded in April and May during the first rounds of special COVID-19 Response Fund grantmaking. See all the recipients here.
DuPage Foundation has raised more than $1.2 million for its COVID-19 Response Fund. Our thanks goes to our lead partners including the Birck Family, the Hyett Family, two area private foundations wishing to remain anonymous, the Shebik Family, the Gustafson Family Foundation and the Snodgrass Family funds of the DuPage Foundation, along with scores of contributions from other individuals, businesses, and foundations. Special thanks to our most recent donors, Doris K. Christopher and Family and the Illinois COVID-19 Response Fund.
The Foundation encourages donors to continue giving directly to their favorite charities and, for those who are interested and able, to continue to contribute to the DuPage Foundation's COVID-19 Response Fund to help do a world of good, right here in our own back yard, and be part of a powerful, collaborative response to help people and families affected by the COVID-19 pandemic.