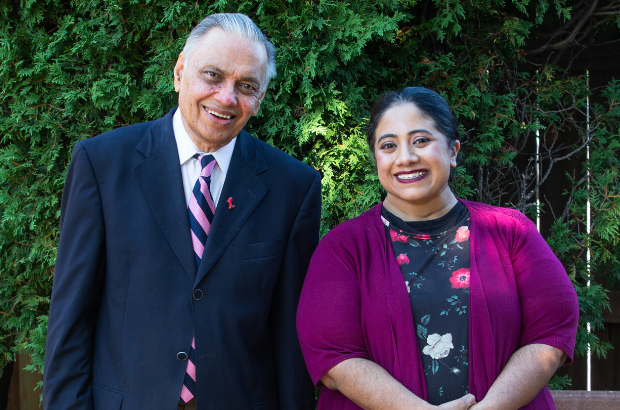 Photo caption: Dr. Asok K. Ray and his daughter, Mallika.
The story of philanthropist Dr. Asok K. Ray began from humble beginnings in Calcutta, India. He earned his medical degree from Calcutta University in 1968, followed by surgical training in the United Kingdom, fellowships in Scotland and the United States, and a tenure as chief resident of Cook County Hospital, before entering private practice to serve patients at MacNeal Hospital and Loyola University Medical Center. 
"Helping people has always been my passion," said Dr. Ray. "It is why I chose a career in medicine, and why I believe so strongly in philanthropy. After working very hard to establish myself, I started giving to charity in 1981 by supporting Mother Teresa's work." 
With Mother Teresa as inspiration, Dr. Ray continued giving to many causes she led and established his own charitable foundation, the Indima Foundation, to help the poor of India. Founded in 1992 in memory of his late parents, Indira and Manik Lal Ray, the Indima Foundation has addressed needs throughout India and beyond, including the construction of medical facilities and support for underprivileged students and disadvantaged youth.    
"My father was a very hard worker and my mother was extremely generous and would always help the less fortunate," said Dr. Ray. "They instilled their values in me, and I know they would be proud of the work I have done to help the indigent." 
Over the years, the scope of Dr. Ray's philanthropy has expanded to those in other corners of the world—including here in Illinois. Suburban-based organizations like Helping Hand Center and the Blind Foundation for India have been among the many local beneficiaries of the Indima Foundation.
While continuing to give through the Indima Foundation, Dr. Ray recently opened a donor-advised fund at the DuPage Foundation to supplement his giving and ensure that he and his family have a knowledgeable partner to help preserve the charitable legacy he created. "I've been impressed with the work of the DuPage Foundation for a long time," said Dr. Ray. "I now have a trusted partner committed to honoring my intentions who can help my family identify impactful opportunities."
Recognizing the importance of passing on his charitable values, Dr. Ray involves his daughter, Mallika, in his philanthropy. "I want Mallika and my grandchildren to continue addressing poverty and hunger for people of all backgrounds and religions. I also hope that my commitment will inspire my brothers and sisters within our communities to give locally and toward the causes they love."
Of his own legacy, Dr. Ray said: "Amassing wealth is not my personal idea of happiness. True happiness comes from helping others, particularly those who are in need. Through my giving, I hope to engage more of the 'haves' in serving the needs of the 'have-nots' of the world. With the DuPage Foundation as my partner, I know that my family and I will succeed in supporting many life-changing solutions."