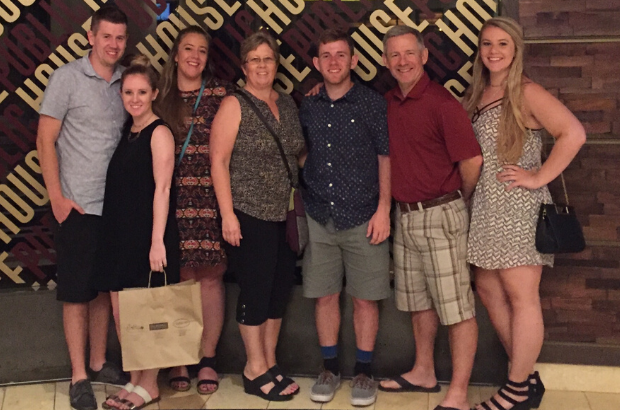 Photo caption: The Beck family, from left to right: John, Jennifer, Erin, Margie, Karl, Marty, and Kelly.
"Live fun, do good" is the personal motto of Margie Beck. "It fits our family," Margie said. "We get along, we have fun together, and we give charitably."
The family that Margie speaks of is herself, her husband Marty, and their four children and one son-in-law—Erin, (31), Jennifer (28) and John (30), Kelly (26), and Karl (23). Giving to charity wasn't something that Marty or Margie grew up doing regularly, but they've made a commitment to it as adults and have encouraged their children to get involved, too. "We knew our children were watching us, and that they'd mimic our actions," said Marty. "So if we're having fun and doing good, they'll do the same. That's what we wanted."
Residents of Naperville for the last 25 years, the Becks were drawn to the community's commitment to education and family values. The Becks had been adding to a personal account designated for charitable giving and were casually aware of the DuPage Foundation's services. "We finally made the commitment to move our charitable giving fund to an organized donor-advised fund at the DuPage Foundation," said Marty. "The Foundation is a trusted partner that is helping us achieve what we want with our giving—it's a tremendous confidence builder to have the Foundation's expertise on our side." 
Doing due diligence about the organizations they support is important to the Beck family. Each of their children is allotted an amount of money from which to recommend a grant. Part of the children's responsibility is to review the finances of the charitable organization they select. "We look for programs that operate efficiently so the maximum amount of the grant goes to those in need," said Margie.
When the Beck Family Foundation makes a donation, those in need receive a tangible benefit. But these grantees aren't the only recipients of something. "Our family gets the amazing feeling of doing good," said Margie. "Giving to others is an uplifting experience that Marty and I want our children to turn to throughout their lives."
As a financial planner, Marty is confident with the selection of a donor-advised fund as a giving vehicle, which ensures that the growth of the fund is significantly more tax efficient than a personal account. "With the DuPage Foundation as our partner, we have made more money available for the fun part—the giving!"
Marty and Margie are committed to philanthropy and hope their children will continue following in their footsteps. "Taking our children with us on this journey is the first step to ensuring that the DuPage Foundation will be able to respond to the needs of our community for generations to come."
Living fun and doing good is a legacy worth leaving.