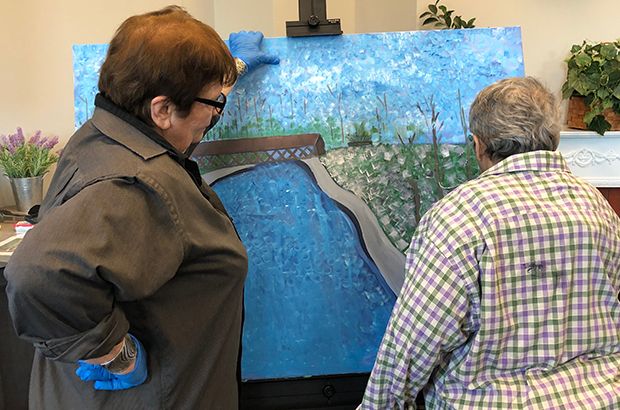 Riverwalk Adult Day Services (RADS) Board President Marian Stricker learned early in 2018 that the Naperville organization was the recipient of a "Picture This" Visual Arts Mini-Grant through the JCS Arts, Health and Education Fund of the DuPage Foundation. The funds awarded were to support an interactive painting-on-canvas project for adults in need of daytime care who participate in the RADS daily program. After unsuccessful attempts to find a qualified replacement when the originally retained artist was no longer able to carry out the plan, Marian reached out to Arts DuPage, a DuPage Foundation initiative, for assistance.
Arts DuPage Director Debbie Venezia quickly recommended Nancy D'Agostino, a local art instructor experienced in working with individuals with age-related impairments, including disabilities and dementia. D'Agostino met with the RADS team and was hired instantly. Her skills as an instructor and her compassionate demeanor allowed her to design a syllabus that captured the interest of the seniors while also addressing their abilities and needs.
After the first class, D'Agostino assessed the physical and cognitive limitations of the 11 adult students and devised techniques suitable for each, which she employed on a one-on-one basis. Those lacking the dexterity to hold a traditional paintbrush instead used a variety of tools including sponges and cardboard tubes to put a design in place. After a few sessions, those who were once reluctant to approach the canvas were eager to take their turn. The group soon completed the first phase of the project: a large-format fall scene in a lush, impressionistic style that reflects the passion with which it was made. A winterscape was then completed and is currently on display in the reception area of the DuPage Foundation office as part of Arts DuPage's rotating art program.
During the course of the project, D'Agostino saw a measurable change in the participants. "They became more social and engaged," she said. "Not only did they love their art time, the students took pride in showing their work and sharing it with the outside community." The project proved to be a learning experience for D'Agostino, too. "When I saw people coming out of their shell, it told me to never give up on anyone," she said. "Nancy was a perfect match for this program," said Stricker. "Not only will she complete the intended commission, but she will continue to provide ongoing bi-weekly art programming for the center!" A win-win for all.
Riverwalk Adult Day Services' art program was made possible because of funding from a "Picture This" Visual Arts Mini-Grant from the JCS Fund of the DuPage Foundation. Do you have a drawing or painting related project that needs support? Not-for-profits and governmental agencies can apply for a grant for up to $2,500. Complete the quick and easy application by December 30.