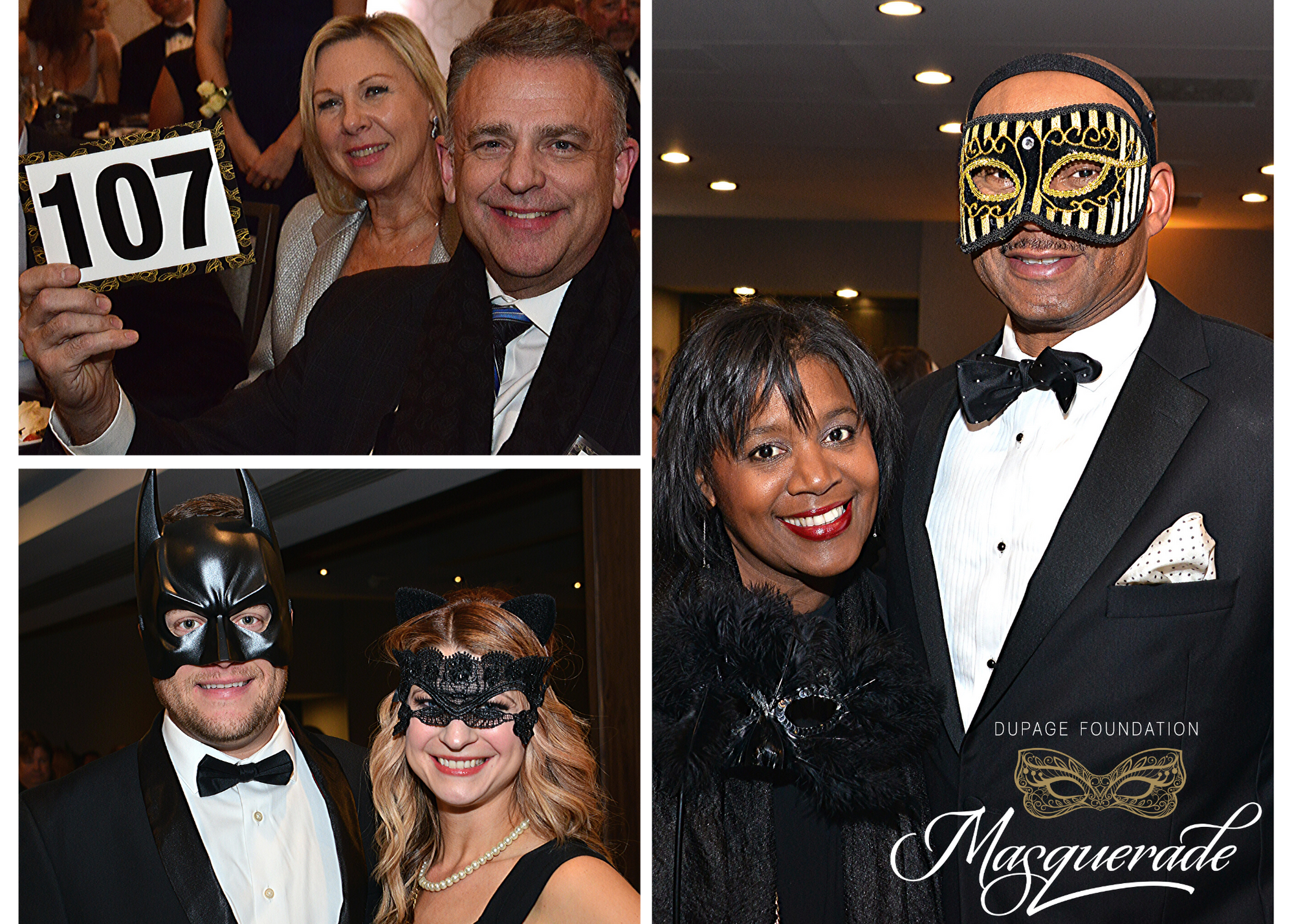 Approximately 250 of DuPage County's most dedicated philanthropists, business executives, and community leaders came together the evening of Saturday, November 16, for a festive celebration in support of the DuPage Foundation, our community's catalyst for collective, coordinated impact. Held at the DoubleTree Oak Brook, the DuPage Foundation Masquerade was a night to remember, grossing nearly $450,000 to date for Foundation operations and programs aimed at raising the quality of life throughout DuPage County, with additional gifts expected through year-end.
Guests enjoyed a formal dinner, silent auction, first-rate entertainment by Felix And Fingers Dueling Pianos, and a mask contest, won by attendees Les and Mary Wiberg of Wheaton. Tables competed in the Foundation's version of The Masked Singer game in order to recommend a $1,000 grant to a DuPage County not-for-profit of their choosing. The winning team, led by Naperville resident Katelyn Moon of The Driskill Foundation, selected the Career & Networking Center in Naperville as their grantee.
Among the mystique, music, and celebration, the Foundation unmasked our community's most pressing areas of need and, during the evening's paddle raise, invited attendees to join in funding impactful solutions to those needs by supporting the Foundation's Community Needs grant program. Nearly $90,000 was generated through the paddle raise, thanks in part to a generous $25,000 matching grant from the DuPage Medical Group Charitable Fund, which is administered in partnership with the DuPage Foundation.
"Despite being one of our nation's most prosperous counties, we still have needs in DuPage," said Dave McGowan, Foundation president & CEO. "Beneath our mask of prosperity, many of our friends and neighbors struggle daily with myriad challenges: Poverty—including homelessness and food insecurity—mental illness, substance abuse, affordable housing, access to quality, early childhood education, and affordable healthcare, to name a few. These challenges are real, and they need our attention."
"Our Community Needs grant program supports the vital work of our local not-for-profit partners," said Barb Szczepaniak, Foundation vice president for programs. "The financial support this program received from those in that room, and beyond, was tremendous. I was inspired to see such a strong commitment to helping those in need, right here, in our own backyard."
The DuPage Foundation Masquerade marked Northern Trust's seventh year as the event's Premier Sponsor. "Northern Trust values being a part of what goes on at the Foundation," said Greg Jordan, Northern Trust's senior vice president and senior managing director. "The great work the Foundation does is felt in every corner of our community. They are the bar by which all other efforts are measured."
Success would not have been possible without the support of the Foundation's many event sponsors:
Premier Sponsor
Northern Trust
Signature Sponsor
U.S. Bank
Supporting Sponsors
Bill & Jen Blum
Ernie & Diane Mrozek
Spraying Systems Co.
Table Sponsors
G. Carl Ball Family Foundation
BMO Harris Bank
BNY Mellon Wealth Management
Steve & Emily Burt
Capital Group with Nate & Sandra Wasson
The Driskill Foundation
Charlie & Kathy McKenna
The McMahon Family
The Shebik Family
Specialty Sponsors
Apparatus Cinema Service – Video Sponsor
Christopher B. Burke Engineering, Ltd. – Sweets Sponsor
Northwestern Memorial Foundation – Photo Booth Sponsor
Dorothy O'Reilly – Valet Sponsor
Rathje Woodward – Trivia Sponsor
Syntrinsic – Cocktail Sponsor
For highlights of the evening's festivities, see the following links:
About the DuPage Foundation
The DuPage Foundation is DuPage County's philanthropic leader. Established in 1986 to raise the quality of life throughout DuPage County, the Foundation serves our community by helping area residents and organizations realize their unique charitable goals, providing impactful support to our community's not-for-profits, and fostering key partnerships to address critical issues affecting DuPage County.
As a 501(c)(3) public charity, the Foundation receives contributions and bequests from individuals, corporations, organizations and foundations looking to make a difference for our community and the causes about which they are most passionate. Since its inception, the Foundation has grown to more than $95 million in assets and awarded more than $45 million in grants to not-for-profit agencies serving the residents of DuPage County and beyond.
For more information about the Foundation, visit dupagefoundation.org. To arrange future media opportunities, contact Melissa Fischer, marketing manager, at 630.598.5290, or melissa@dupagefoundation.org.