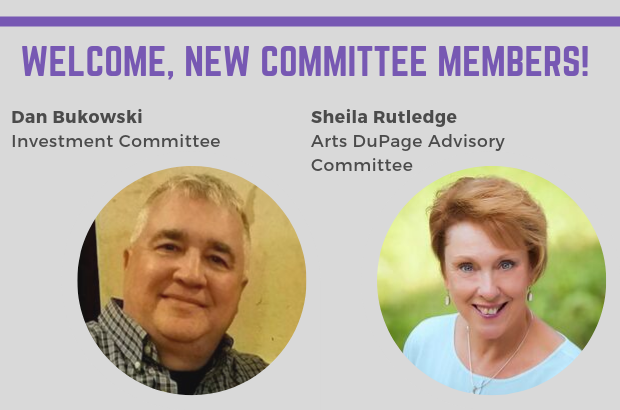 The DuPage Foundation is pleased to welcome two new committee members to our growing number of volunteers. Approved at the Foundation Board of Trustees Annual Meeting on September 19, Dan Bukowski joins the Investment Committee and Sheila Rutledge joins the Arts DuPage Advisory Committee. These individuals join nearly 150 other generous volunteers who are helping advance the Foundation's vision of raising the quality of life throughout DuPage County.
Dan Bukowski
Investment Committee
Dan Bukowski is currently a managing partner with Net Alpha Advisors, a financial consulting firm focused on securities trading analytics. Bukowski has a BA in statistics and an MBA in finance from the University of Chicago, graduating Phi Beta Kappa and Valedictorian, respectively. Dan sits on boards for Opinions 4 Good, Inc. and Digicopy, LLC and has been on the Investment Advisory Committee for the New York State Teachers' Retirement System since 1999. "The Foundation is a well-run organization that supports many causes I believe in," said Bukowski. "I can make an impact by supporting the Foundation's work." Bukowski and his wife live in Naperville with their five children and two dogs.
 
Sheila Rutledge
Arts DuPage Advisory Committee
Sheila Rutledge is a community-minded sales professional, elected official, and photographer/owner of the upscale portrait gallery Captured, Incorporated. As a DuPage County Board member, elected in 2018 to serve a 4-year term, Rutledge chairs its Community Development Committee and sits on five other committees. Her volunteer experience includes Winfield Township Precinct Committeeman, Danada Equestrian Center, Warrenville Chamber of Commerce Board of Directors, and the Professional Photographers Association of Northern Illinois. Rutledge lives in West Chicago.
About the DuPage Foundation
The DuPage Foundation is DuPage County's philanthropic leader. Established in 1986 to raise the quality of life throughout DuPage County, the Foundation serves our community by helping area residents and organizations realize their unique charitable goals, providing impactful support to our community's not-for-profits, and fostering key partnerships to address critical issues affecting DuPage County.
As a 501(c)(3) public charity, the Foundation receives contributions and bequests from individuals, corporations, organizations and foundations looking to make a difference for our community and the causes about which they are most passionate. Since its inception, the Foundation has grown to more than $95 million in assets and awarded more than $45 million in grants to not-for-profit agencies serving the residents of DuPage County and beyond.
For more information about the Foundation, visit dupagefoundation.org. To arrange future media opportunities, contact Melissa Fischer, marketing manager, at 630.598.5290, or melissa@dupagefoundation.org.