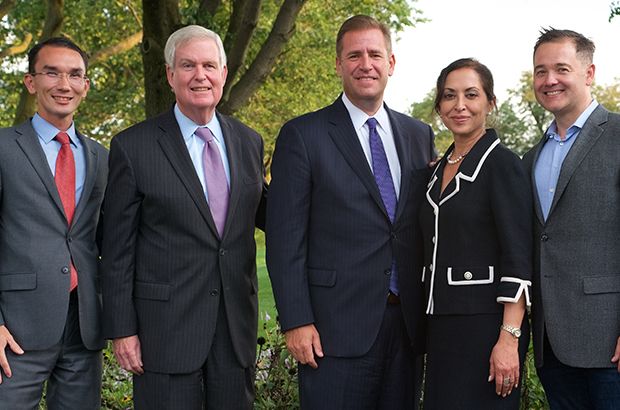 Photo caption: New Trustees (from left): Kevin Phillips, Ted Saul, Paul Miles, Diana Martinez, and Peter Paolilli.
The DuPage Foundation is pleased to announce the addition of Diana Martinez, Paul Miles, Peter Paolilli, Kevin Phillips, and Ted Saul to our Board of Trustees. All five were elected to the Board and officially began their tenure at the Foundation's Annual Meeting on September 19, 2019, at Glen Oak Country Club in Glen Ellyn. Retiring Trustees Lamounte Coleman, William Giffin, Christopher Janc, and William Kennedy were also recognized. "We truly could not accomplish what we do without the support and guidance of our Trustees," said Dave McGowan, Foundation president & CEO.
Diana L. Martinez
Diana Martinez, director of the McAninch Arts Center (MAC) at the College of DuPage, is a native of Glen Ellyn and has an extensive résumé with more than 30 years of creative and executive management experience. She is currently a member of the National Speaker's Bureau and has served on the boards for the City of Chicago Cultural Advisory Committee, Choose Chicago, The League of Chicago Theatres, Aurora Chamber of Commerce, and Aurora Visitor's Bureau. As a current member of the Foundation's Arts DuPage Advisory Committee, Martinez has been contributing to the success of the Foundation for several years. "I've had the opportunity to see the tremendous impact the DuPage Foundation has in our community," said Martinez. "I am impressed with the generosity of donors and the hard work and dedication the staff deliver in supporting not-for-profit organizations."
 
Paul C. Miles
Paul Miles, president and CEO of the We Raise Foundation, has spent his career in or around the philanthropic community, working with large, international not-for-profits to small, community charities. "These organizations are asked to do difficult work, addressing a critical issue and too often, are asked to do it with limited funds," Miles said. "I look forward to helping get resources into the hands of worthy recipients, and fulfilling important needs of the community and the dreams of the donors providing the support." His board service includes Concordia University Chicago, Lutheran World Relief, Chicagoland Habitat for Humanity, Boys and Girls Clubs of Sumter County, and various congregational boards. He has been a frequent speaker and trainer in the field of resource development. Miles lives in Naperville with his wife and three children.
 
Peter A. Paolilli

Peter Paolilli is a Senior Director for BNY Mellon Wealth Management, where he is responsible for helping ultra high net worth individuals and families, business owners, foundations, endowments and family offices reach their financial goals and navigate the complexities of wealth. Peter has 25 years of financial services experience, earned a BS in Finance from the University of Illinois, an MBA from the Kellogg School of Management at Northwestern University, the Certified Private Wealth Advisor accreditation from the University of Chicago, the Certified Exit Planning Advisor accreditation at the University of Chicago from the Exit Planning Institute, and holds the Series 7 and 63 securities licenses. Peter, a long-time Naperville resident, is very active in the community through volunteer work, charitable giving, and leadership roles for several Chicago area non-profit organizations. In addition to serving on the Board of Trustees for the DuPage Foundation, he also currently serves on the Board of Directors for 360 Youth Services, Community Advisory Board for Loaves & Fishes, Chicago Advisory Board for Blessings in a Backpack, Board of Directors for the DuPage Estate Planning Council, Board of Directors for the Suburban Chicago Planned Giving Council, Advisory Board for the Center for Financial Literacy for North Central College, Board of Directors for Naperville Citizens who Appreciate Public Safety, Welcoming Committee and Member of the Chicago Estate Planning Council, and Active Member with Downtown Naperville Rotary. Peter has also served on the Board of Directors and Chair of the Professional Development committee for the Kellogg Alumni Association of Chicago for Northwestern University.

Kevin J. Phillips
Kevin Phillips is a financial advisor in Savant Capital Management's Naperville office. He works with those who require expertise in comprehensive financial planning, tax efficient investment management, tax planning, estate planning, charitable planning, and multi-generational family wealth transfer. "The DuPage Foundation is a tremendous organization and as DuPage County's philanthropic leader, does many important things for our community," said Phillips. "I'm honored to become a Trustee and look forward to continuing to support the area's not-for-profits and helping families achieve their charitable goals." Phillips is an active member of the Foundation's Next Generation Initiative, the St. Charles Education Foundation, Naperville Educational Foundation, DuPage County Estate Planning Council, Fox Valley Estate Planning Council, and Suburban Chicago Planned Giving Council. Phillips and his wife live in St. Charles with their four children. In his free time, he enjoys coaching his children in their extracurricular activities, golfing, fishing, and traveling.
 
Charles E. Saul Jr.
After a 40+ year corporate banking career at Bank of America Merrill Lynch in energy, securities & commodities, and healthcare, Ted Saul is now focused on expanded board work with an emphasis on human services, healthcare, and the arts. "I believe the DuPage Foundation provides valuable philanthropic education and services while enriching the quality of life in our region," said Saul. "I am excited to be able to help in this effort." Saul's community service résumé includes The Salvation Army, Village of Glen Ellyn, First Congregational Church in Glen Ellyn, Continental Illinois Foundation, and Bank of America Chicago, among others. Saul is a resident of Glen Ellyn and enjoys hiking, golfing, and reading.
September 19 also marked a changing of the guard for the Foundation, with the installation of new officers Joseph Weidenbach (chair), Nathaniel Wasson (vice chair), Delrose Koch (secretary), and Ernest Mrozek (treasurer). Denice Gierach completed three years as chair, though she will remain a Trustee and immediate past chair. "Denice's leadership and friendship during her tenure have been invaluable, resulting in huge accomplishments, including the creation of an ambitious strategic plan that will guide the Foundation's work for the next five years," said McGowan.
The Foundation appreciates our new and continuing Trustees' commitment to helping us enhance the quality of life for all residents in DuPage County!
About the DuPage Foundation
The DuPage Foundation is DuPage County's philanthropic leader. Established in 1986 to raise the quality of life throughout DuPage County, the Foundation serves our community by helping area residents and organizations realize their unique charitable goals, providing impactful support to our community's not-for-profits, and fostering key partnerships to address critical issues affecting DuPage County.
As a 501(c)(3) public charity, the Foundation receives contributions and bequests from individuals, corporations, organizations and foundations looking to make a difference for our community and the causes about which they are most passionate. Since its inception, the Foundation has grown to more than $95 million in assets and awarded more than $45 million in grants to not-for-profit agencies serving the residents of DuPage County and beyond.
For more information about the Foundation, visit dupagefoundation.org. To arrange future media opportunities, contact Melissa Fischer, marketing manager, at 630.598.5290, or melissa@dupagefoundation.org.